The Garden Of Eden is as charming and delightful a film as Hollywood
ever turned out in the silent era. It's also a most curious concoction
— a light Viennese-style romantic comedy directed with a kind of
gum-chewing sidewise humor that's distinctly American . . . sort of like
a Lubitsch comedy as it might have been imagined by Howard Hawks.




The film is radiant with visual invention and style — it makes its nod
to Lubitsch's visual wit but eschews his delicacy . . . the visual gags
here are more like carelessly tossed-off wisecracks.




The result is a perfect showcase for the marvelous Corinne Griffith,
appealingly casual and fresh but capable of deeper emotional
undercurrents. She was a real star. Her leading man in this
contemporary Cinderella fable is Charles Ray, who's generally charming
but threatens at every moment to become just a little too fey to hold
his own with his formidable co-star.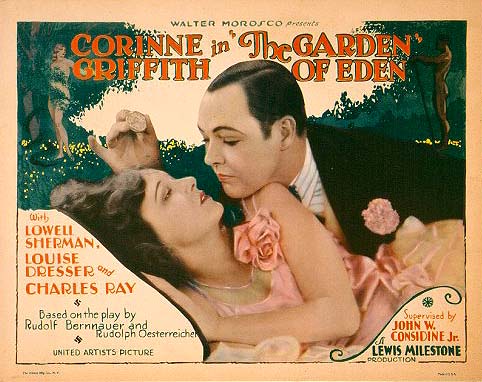 As Griffith's Cinderella prepares to marry her prince, she acknowledges
that almost everything she's wearing was a gift from her husband-to-be,
but adds that she provided her own underwear. When complications ensue
she removes the gifts defiantly and races through the wedding party in
her skivvies — and we're suddenly a very long way indeed from the
subtle sexuality of Lubitsch's world. Griffith's Cinderella has the
soul of a flapper, and we're relieved that her upper-class fiance has
the wisdom, finally, to appreciate her for who she is . . . and she is,
unmistakably, details of the narrative notwithstanding, an American girl, in her own underwear.