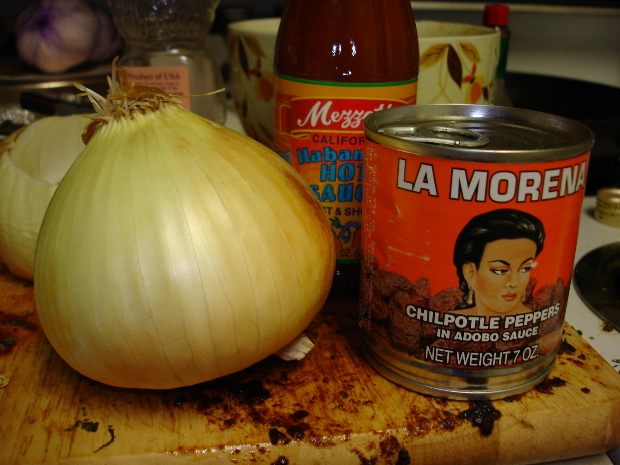 The
next time you feel like fixing yourself a hamburger, try a carne asada
taco instead, which is sort of the equivalent of a hamburger south of the border,
fast, ubiquitous and comforting.
Here's how to make the ultimate carne asada taco, courtesy of Rick Bayless' indispensable Mexican Everyday:
Get yourself some skirt steak, a 7-ounce can of chipotle chiles in
adobo sauce, a few medium white onions, some flour or corn tortillas
and some olive oil. (A bottle of hot sauce is optional.)
Put the chipotle chiles and their sauce into a blender and purée
them Remove the fat and white membranes from the meat and then
brush the chipotle purée over both sides of it. Let this sit for
a while. (You will have lots of the purée left, but it will keep
for weeks in the fridge.)
Eventually . . . turn your oven on at its lowest setting. Cut up
an onion into quarter-inch thick slices. Heat two tablespoons of
the oil in a skillet over medium to high heat and sauté the onions
until they're lightly browned but still crunchy. (Takes about
five minutes.) Transfer them to an oven-safe container, leaving
as much of the oil in the skillet as possible, and place the container
in the oven. Return the skillet to the burner at the same heat
setting, add another tablespoon of oil and cook the chipotle-smeared
steak until it's well done.
Cut up the steak into thin slices,
mix it with the onions from the oven, salt it to taste, add some hot
sauce if you want (the chipotle sauce is fairly spicy to begin with)
and roll it all up in a tortilla. Eat it with a cold beer or a
Mexican Coca-Cola (which is still made with real sugar and can be found
at many of the smaller Latin markets in the U. S.)
This is just about as easy to make as a hamburger with grilled onions
and way more interesting — Mexican food at its most basic and most
delicious.