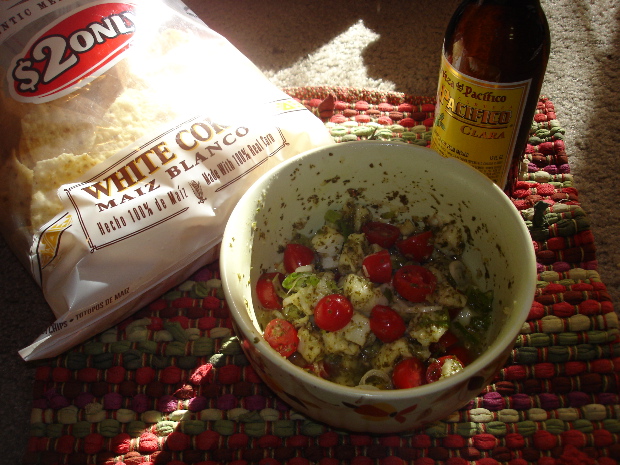 (With thanks to Maya for the extra exclamation points . . .)
Here's my personal recipe for ceviche, arrived at by combining a couple of rules I've run across:
The Marinade
1 cup of freshly-squeezed lime juice
2 cloves of roughly-chopped garlic (I actually use 4 or more cloves, but that's just me)
1 serrano chile, stemmed and roughly chopped (I use 2, for a very hot taste — if you want to wimp out, you can remove the seeds from the chile)
1/2 loosely-packed cup of coarsely-chopped cilantro
1 teaspoon of salt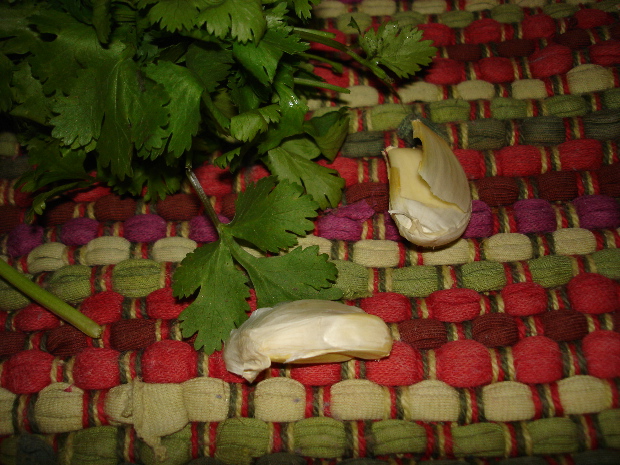 Put all this in a blender and mix it up but good.
The Fish
1 to 1&1/4 lbs. of fresh fish, filleted and skinned and chopped up into small cubes. An oily fish like mackerel is ideal but halibut or sea bass will do. Indeed, just about any seafood will do — shrimp, scallops, octopus, squid, though you need to boil the latter two for 1/2 hour first, to tenderize them.
Put the fish cubes in a bowl with the marinade and let it "cook" in the refrigerator for four hours, stirring occasionally. If you use "sushi-grade" fish, available at some markets, you can wait just long enough for the marinade to flavor the fish before eating it, essentially raw. (This is how it's done in Peru, apparently, and it's very fashionable these days, but not to my taste.)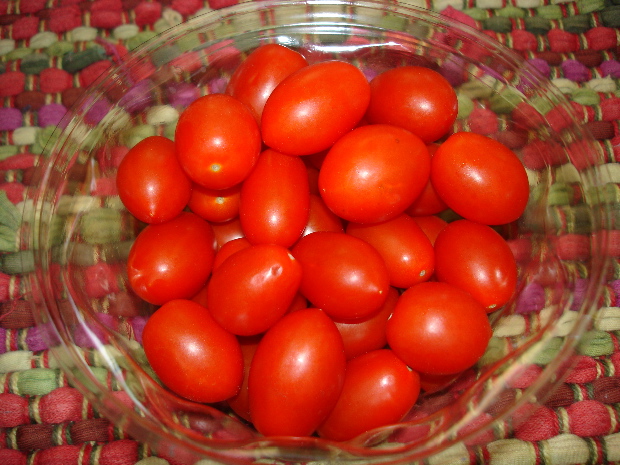 The Garnish
While the fish is marinating, chop 10 (or more) cherry tomatoes in half and thinly slice a couple of green onions.
When you're ready to eat the fish, pour off the marinade, but save it. Toss the tomatoes and the onions in with the fish. Add a bit more salt to taste. If you're going to be eating the ceviche with taco chips (highly recommended) you won't need much more salt. At this point you can also sprinkle a little freshly-chopped cilantro over the ceviche for color.

Eat the ceviche with some cold cervezas. For leftovers the next day, if any, dress them lightly with the marinade you've saved.
This dish is incredibly easy to make and unbelievably good. You can find ceviche just about anywhere along the shores of the Mar de Cortes, where it's almost always sublime — and now, you can have it right in your own home, wherever you are.