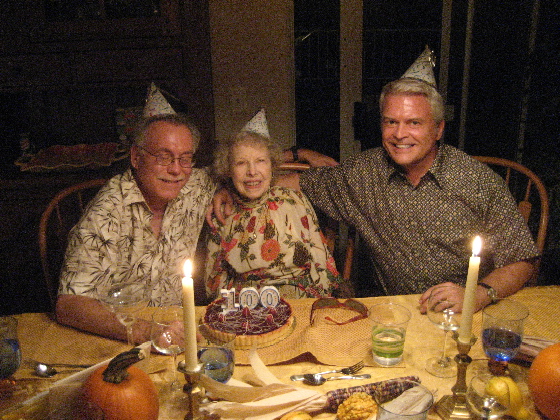 In a recent post I noted the 100th birthday of horror movie and Baja California icon Carla Laemmle. Imagine my delight and surprise when I heard from Scott MacQueen, a reader and friend of mardecortesbaja, that he knew the great lady and had hosted her birthday party in his own home, doing the cooking for it himself. (Scott's recipe for Beef Burgundy will appear on this site in the not too distant future, as soon as I have a chance to try it out in the world-famous mardecortesbaja test kitchen.)

Scott also sent along a picture of the festivities, above — with Carla flanked by David Skal (author of Hollywood Gothic) on the left and by Rick Atkins (co-author of Among the Rugged Peaks, Carla's biography) on the right. (Click on the titles of the books to buy them!)

Ms. Laemmle looks — there's just no other word for it — adorable.