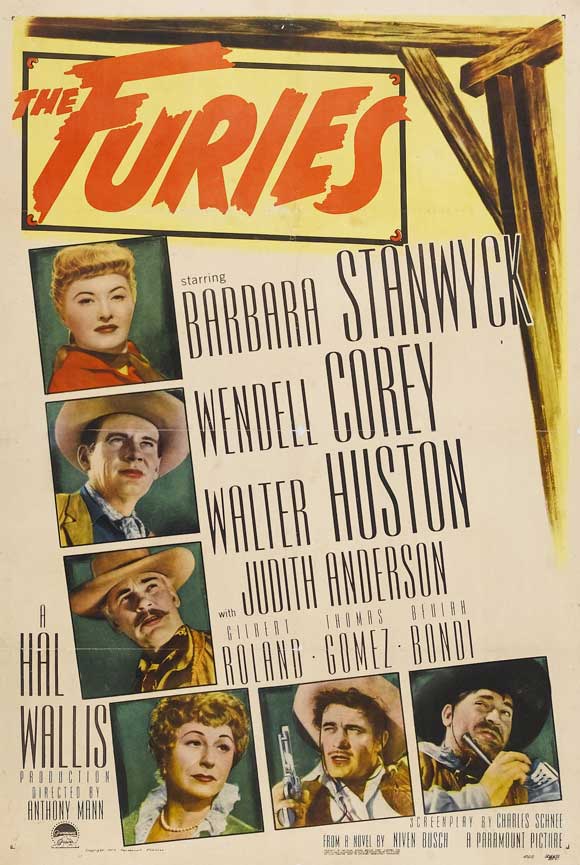 Anthony Mann started out directing low-budget noirs but had his big breakthrough as a director with Westerns. He made three which were released in 1950 — the classic Winchester '73, the little-seen but highly regarded Devil's Doorway, not yet available on DVD, and The Furies.

The Furies, starring Barbara Stanwyck and Walter Huston, is very different from all of Mann's other Westerns. It's really a lurid, almost Gothic family melodrama that happens to be set in the Old West. It centers around a psychically, if not physically, incestuous relationship between a powerful rancher played by Huston and his fiercely independent daughter played by Stanwyck. They're attracted to each other because neither can dominate the other — their sparring is at the center of their lives. It's an explicitly erotic attraction which has no other outlet than contention, so the contention inevitably escalates until the two are mortal enemies.
Mann went on to make many edgy Westerns with protagonists who were borderline neurotic, but never another one with a female character at its center, and never one with quite the level of perversity found in The Furies.
The film has a lot of interiors, since its chief conflicts are domestic, and many of its exterior scenes take place at night, as befitting the film's dark mood. This makes it a bit unsatisfying as a Western, especially if you find the image of Stanwyck on horseback vexing. (I don't mind confessing that the way she sits and handles a horse make me quite weak in the knees.) The dark day-for-night scenes are evocative and often beautiful but don't show off the horse action to best effect.
The film is not entirely satisfying as a domestic melodrama, either. Huston and Stanwyck are wonderful in the film, and especially wonderful together, but it's hard to enjoy their battling, given its none-too-subtle subtext. Stanwyck's character is unusually aggressive and self-possessed sexually, at least for a Hollywood film, and certainly for a Hollywood Western, but the fact that the center of her erotic imagination is her father undermines the excitement and appeal of this.
By the time the two come to a lethal impasse, you aren't really rooting for either of them to win the contest of wills — you're just watching an emotional train wreck in progress. There is a moment of transcendence and hope at the end, but by then you may be too morbidly invested in the impending wreck to really enjoy it.
Duel In the Sun was a precedent for dark, vaguely perverse, Gothic Westerns. Like The Furies, it was adapted from a novel by Niven Busch, who as novelist and screenwriter played a crucial role in the development of the edgier, more adult Westerns of the late Forties and Fifties. The Furies set a more enduring pattern for the Gothic Western in placing a powerful, somewhat twisted female protagonist at the center of the tale — someone who wanted to contend with men on their own terms, distinguishing her from Pearl in Duel in the Sun (above), whose only weapon was an unbridled sensuality.
Stanwyck in this film, with her arsenal of traditionally male weapons, was the prototype for the formidable females at the center of such films as Rancho Notorious, Johnny Guitar and Forty Guns, the last starring Stanwyck herself as an extreme version of the character she plays in The Furies.
The later films in this cycle are more fun than The Furies, because they are less grounded in intimate domestic melodrama and more in archetypal myths about gender. We don't ask them to be psychologically convincing, as The Furies tries to be — just to violate our expectations and set us on edge with a lot of style.