Paul Zahl (of this site's The Zahl File and his own marvelous PZ's Podcast) observes beats and a bishop cavorting on screen in a strange document of the Fifties:

SNAKE-DANCING BISHOP



Pull My Daisy, the 1959 "beatnik" movie by Robert Frank and Alfred
Leslie, with narration by Jack Kerouac and music by David Amram, has
one amazing character in it, unique, I'll bet, in American literature. The character is a Christian
bishop possessing, to put it mildly, wide-ranging interests.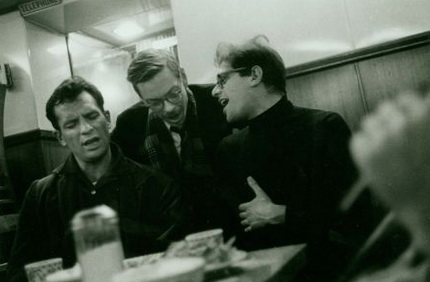 Pull My Daisy is a casual treatment in film of Act Three of Kerouac's
1957 play entitled Beat Generation. The play was not produced. It
concerns some Lower Manhattan beatniks, played by Allen Ginsberg, Gregory Corso, Peter Orlovsky, and Larry Rivers, who receive a chaotic
visit from "The Bishop", played by Mooney Peebles. During the visit,
the beatniks, especially Allen Ginsberg, try out their ideas on this
religious man, and variously try to tease him.




Here is Kerouac's narration of the Bishop's grilling:



"And Allen is saying, Is ignorance rippling up above the silver ladder
of Sherifian doves?



"(The Bishop) says, Yes yes yes, Sherifian doves, yes . . . In any case
we are not concerned one way or the other about what we're thinking about,
about anything in particular. But perhaps we sit in some kind of quiet
bliss. And he goes on trying to explain it because he really knows
what he's talking about."




Later, the filmmakers, in a high reflective pause, somewhat lengthy,
show The Bishop leading the women and children of the beatniks in
prayer and song, all standing out in front of the Third Avenue loft
building where the visit is taking place. Kerouac voices this over:
"The angel of silence hath flown over all their heads."



Towards the end of Pull My Daisy, The Bishop excuses himself in order
"that I go now and go make my holy offices (laughter): if you know what
I mean."



But Wait! There's more on this Kerouacian Bishop.



We learn in Act One of Beat Generaton, on the third act of which Pull My Daisy is based, that The Bishop's denomination is "the new,
ah, Aramaean church."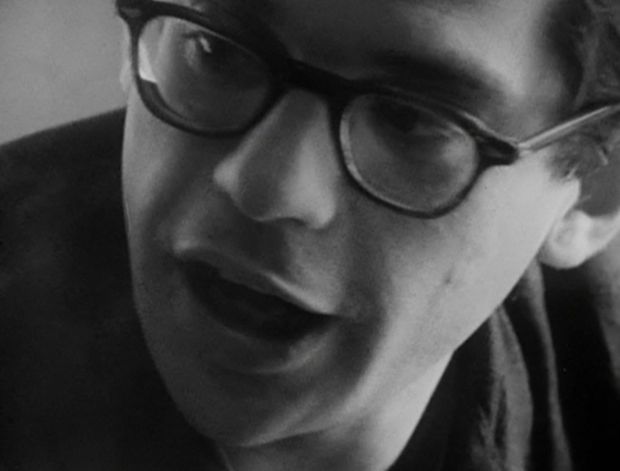 We also learn The Bishop is wonderfully weird. He says to the Allen
Ginsberg character, "We cannot expect solutions, or nirvana, eh, if you
wish to call it that, without making some eff-fort in the direction of
God, some movement (AND HE TWISTS)"



IRWIN (Allen Ginsberg): Ooh you twisted just like a snake then . . . Yes
your movement then was exactly like a supernatural illustrated serpent
arching its back to Heaven . . . I mean that was the hippest thing I've
seen you do tonight."



The Bishop also praises the Kerouac character, whose name is "Buck":
"You're making sense and you do drink (LAUGHTER)"



Our "Buck" has the last word on The Bishop:



"Bishop, let me say, you're positively right in everything you say and
you're a very sweet man."



BISHOP: My disciple here!



Behold, then, dear Sisters and Brothers, a hip bishop, snake-dancing
with the beats over on Third Avenue. May his tribe increase.