I got a hankering for some chili recently and poked around on the Internet for a new recipe, never yet having found one that suited me just right.
I stumbled on a recipe that intrigued me because of its complexity — it called for onions, garlic, green bell peppers, cayenne pepper, paprika, dried basil, dried parsley, Louisina hot sauce, red wine, beef bouillon cubes, oregano, salt and pepper . . . in addition to the usual whole peeled tomatoes, tomato paste and ground hamburger.  (I never put beans in my chili.)
I decided to try it, adding one more twist of my own — two chipotle peppers with two teaspoons of the adobo sauce they came in.  (These peppers and this sauce are, as you probably know, extremely hot, but have a delightful smoky flavor which enhances all sorts of dishes.)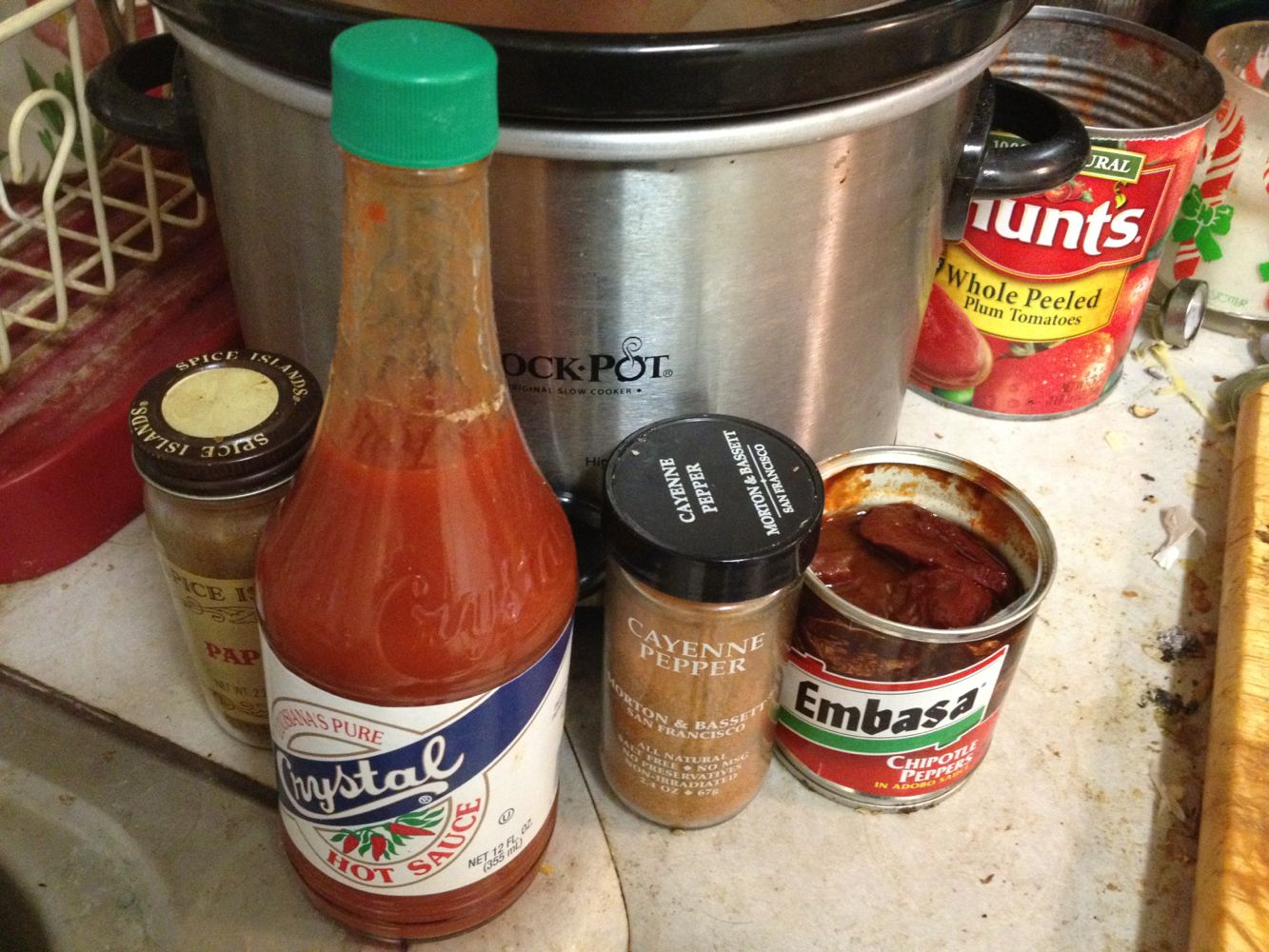 I chopped up one large yellow onion and one large green bell pepper, started them cooking over medium heat in some olive oil and added two pounds of hamburger meat, not too lean. When the meat was brown I added 2/3 of a cup of red wine, crumbling the two bouillon cubes over the mix and adding six large cloves of peeled garlic, crushed.  I added two 12-ounce cans of peeled tomatoes, chopped up, reserving the juice, and one 6-ounce can of tomato paste.  I added two teaspoons each of the dried parsley, dried basil, cayenne pepper, paprika, Mexican oregano, salt and pepper.  (Mexican oregano tastes slightly different from regular oregano and I think works better with chili.)
I actually didn't have a (clean) saucepan big enough to cook all this much at once so I made two equal batches.  I put the first batch in my Crock-Pot, then put the chipotle peppers and the adobo sauce in a blender with a few more peeled cloves of garlic, covered them with some of the juice from the canned tomatoes and mixed it up thoroughly.  I poured this onto the first batch of chili in the Crock-Pot, stirred it up, then added the second batch of chili to the pot and stirred it up again. Finally I shook in twelve drops of Crystal hot sauce and gave it all one last stir.
I set my Crock-Pot on high and let the chili stew for a couple of hours, to get all the flavors well blended, then tried a bowl of it.
Damn good chili.  The four different hot seasonings made for a complex blast of heat.  Next time I'm going to double the dose of each, for an even fierier dish.
Click on the images to enlarge.
UPDATE — the second time I made this I added an extra chipotle pepper and an extra teaspoon of the adobo sauce it came in, and I doubled the doses off all the seasonings but the salt.  This resulted in an all-around improvement in the dish.   It was pretty hot, though.  If you don't like your chili super-hot, use the same amount of seasonings but add more tomatoes and tomato paste — or a 12-ounce can of diced fire-roasted tomatoes.  This will temper the heat but keep the complexity of the flavor — and you really can't make too much of this stuff.  It gets better the longer it sits, and can be frozen for delightful meals at a later time.