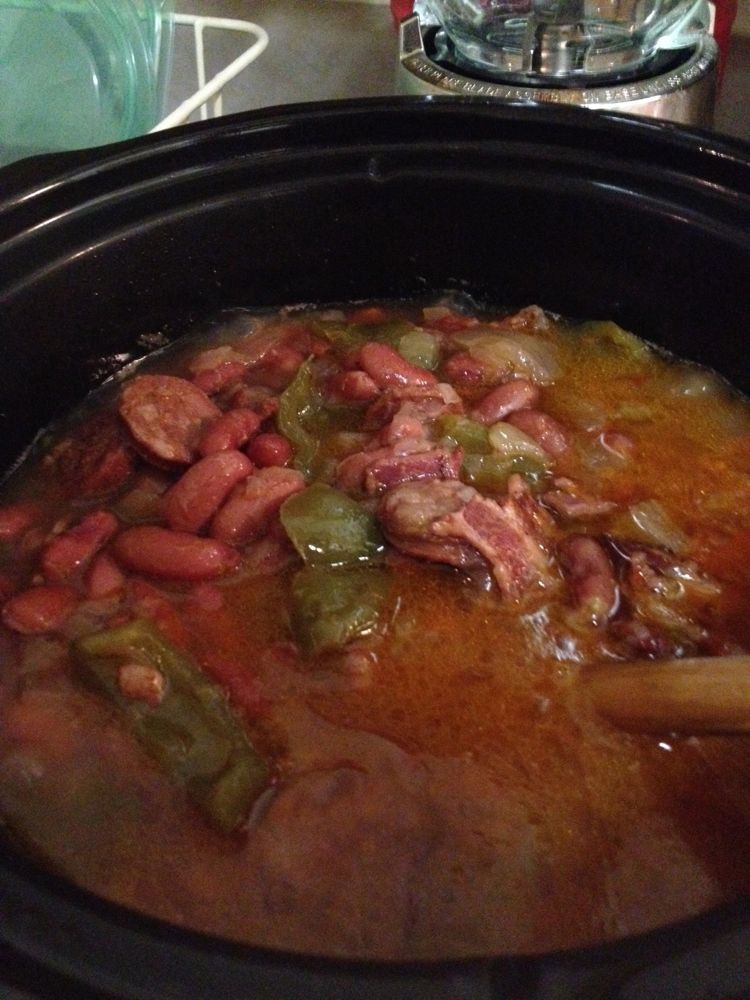 Searching around online has led me to conclude that there are as many recipes for red beans and rice as there have been people who ever lived in or visited New Orleans in the entire course of its history. It's a very simple dish, theoretically, but the variations are endless.
I collected three or four recipes that looked promising and picked the elements of each that seemed most appealing in order to create this rule, which can now be added to the myriad recipes for the dish already recorded. This one uses a slow cooker.
I started with a cup of dried red kidney beans, soaking them overnight in water. When you measure out a cup it won't seem like enough beans, but the next day when they've absorbed a lot of water, it may well seem like too much.
Drain them and put them in the slow cooker.  Fry up four pieces of bacon, remove and drain them when done then pour three tablespoons of the bacon grease over the beans.  Crumble the dried bacon into the pot.  In the remaining bacon grease sauté two cups of coarsely chopped onions.  When they're lightly browned add them to the pot.
Slice up 12-16 ounces of pre-cooked spicy Louisiana sausages and brown them in the same skillet.  Add them to the pot.  In the same skillet lightly roast a coarsely chopped and de-seeded green bell pepper.  Add it to the pot.
Now cut up and sauté a slice of country ham and add it to the pot.  You probably won't be able to find country ham unless you live in the South or unless you have, as I do, a kindly mother who lives in the South and sends it to you from time to time.  If you can't find it, any sort of ham will do, or you can just fry up some more bacon as a substitute.  (Emiril Lagasse uses 1/4 cup chopped tasso ham in his red beans and rice recipe.)
Pour in enough chicken broth to barely cover the contents of the pot, set it to high and wait four and a half to five hours, or until the beans are cooked through.  Stir the mixture every hour or so and add more liquid, broth or water, if it dries out.
Some recipes say you should remove a quarter or so of the beans halfway through cooking, mash them up in a skillet and sauté them a bit, then stir them back into the pot.  To me this seemed like more trouble than it was worth.  (Update — it's not more trouble than it's worth.  See the comments below.)  Some recipes call for adding hot sauce to the pot before cooking, but I see no reason not to add the sauce to taste when the dish is served.
Serve it over rice of course, drink beer with it, while listening to some Louis Armstrong.  When Louis asked his last wife Lucille to marry him, he did so on the condition that she would learn to make red beans and rice, without which he felt he could not lead a full and happy life.  (He often signed his letters "Red beans and ricely yours".)  She learned to make it, he approved of the results, and they stayed married for the next 29 years, until Louis's death.
Try the recipe above and you'll see why red beans and rice was so important to Armstrong.