Dick Tracy is a hard comic strip to love but an easy one to get addicted to.  Its author Chester Gould was attracted to the grotesque, an attraction he indulged more and more outrageously as the strip progressed through the decades.
Tracy had a faintly grotesque look from the beginning — he was a hard edged caricature of a tough police detective — even though the characters around him looked relatively normal.  The hard edges signified a relentless hatred of criminals and also a fierce independence — he always did things his way and rarely let his fellow cops in on his investigative stratagems.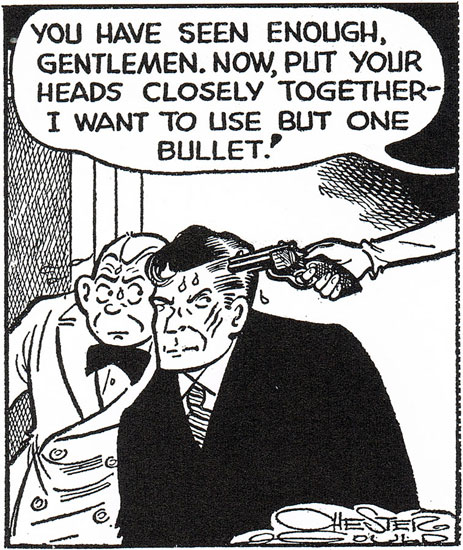 There's something grimly fascinating about him and about the dark underworlds he has to penetrate in order to solve his cases.  The strip started out as a fairly conventional police procedural with an unconventional protagonist.  It would eventually become stranger, with fantastical villains and plots.  It was always lurid, to one degree or another, and that constitutes its vaguely perverse charm.