Bob Dylan's Christmas In the Heart, track by track . . .

Finally Dylan comes up against a song with a precedent he can't really improve upon or add much to.  Judy Garland's recording of "Have Yourself A Merry Little Christmas", done for the soundtrack of Meet Me In St. Louis, is the definitive version of the song, treading the line between the lyric's sadness and its hopefulness with sublime delicacy.
It's only her soundtrack version that rules, though — the recording she made for the song's commercial release on Decca is very fine but not quite as moving.  This was true of many of her movie songs, which she really "acted" on the MGM recording stage, then performed in a more neutral style for Decca.
Dylan's version is very fine, too.  He sings it tenderly — but somehow he misses the melancholy, half-panicked undertow of Garland's soundtrack recording.  Only on the line "until then we'll have to muddle through somehow" does he suggest that things might be worse than he's letting on elsewhere in the song.

                                                                                        [Image © 2009 Drew Friedman]
Sinatra, on his similarly fine recording, also misses the full measure of melancholy that Garland conveys — though like Dylan he has his moments.  When he sings "so have yourself a merry little Christmas now" you can feel a sense of doubt and resignation that gets to the song's core.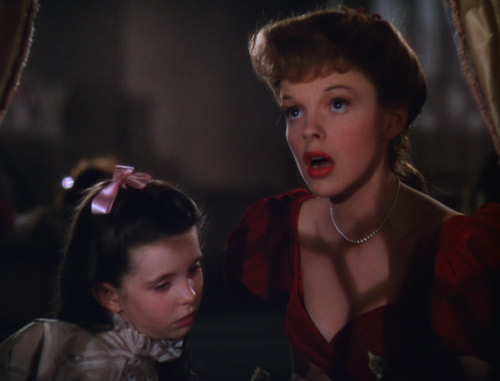 Garland is aided greatly on the soundtrack recording by Conrad Salinger's subtle but deeply expressive arrangement, which brilliantly evokes the melancholy mode without hitting you over the head with it.  This allows Garland her own subtlety in interpreting the song — you feel its sadness without quite being conscious of it, at least on a first hearing.  On subsequent hearings you realize that Garland's character in the film is not just trying to reassure her younger sister with the sweet song, she's trying to reassure herself — and not quite succeeding.
Garland's is one of the greatest vocal performances of all time — to say that Sinatra and Dylan almost give her a run for her money is high enough  praise for any singer.
Back to the Christmas In the Heart track list page.