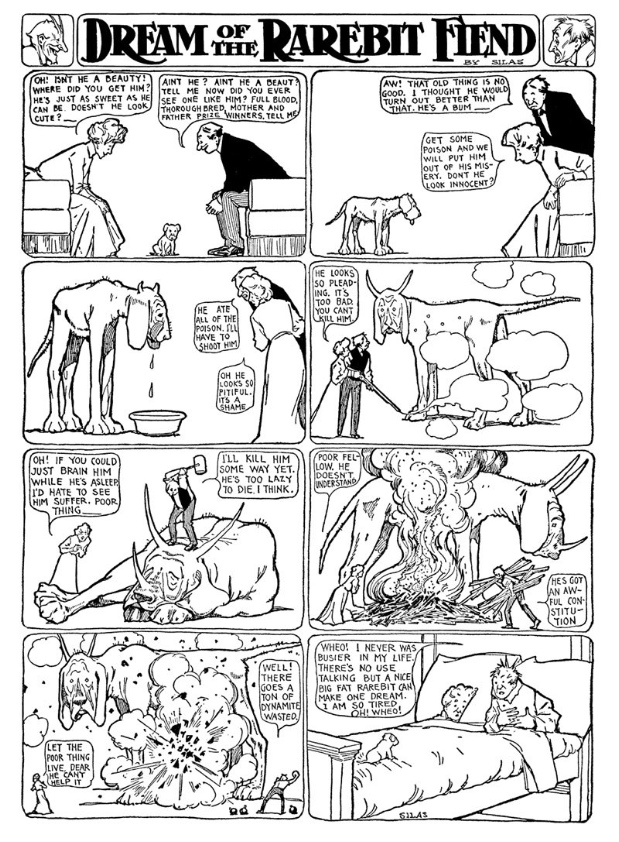 The fourth of the four coolest books published in the last few years, like
two of the others, collects the work of Winsor McCay — in this case
the extraordinary strip Dream Of the Rarebit Fiend — but unlike the other three wasn't put out by Sunday Press Books.  Privately published by Ulrich Merkl, it
includes all of the strips from the series — those not reproduced in
the book itself are supplied on a DVD that comes packaged with the book.
The book is gigantic and presents the strips, published between 1904
and 1913, in their original size.  It also has a wealth of other
illustrative material showing McCay's sources and documenting the
enormous influence his images have had on America's visual culture,
especially that of the movies.
The draftsmanship of the strips is stunning, the visual imagination exhilarating.  Its central gag involves the dreams of people given indigestion by eating Welsh Rarebit, making it a kind of run-up to McCay's masterpiece strip Little Nemo In Slumberland, which illustrates the dreams of a restless little boy.
Merkl's book, published in a limited edition, is expensive but worth every penny.  It lovingly documents a brilliant and endlessly enchanting work of popular art.
Check out my reports on the other three coolest books of recent years:
Little Nemo

Little Sammy Sneeze