A second report from a recent cultural pilgrimage to New York by Paul
Zahl:


They were all broadcast at nine-thirty, Friday nights on CBS, starting
in March of 1961, right before The Twilight Zone.


I'm referring to the insanely scary episodes of Roald Dahl's
short-lived television series entitled Way Out.
[That's Dahl above, about six years before he did Way Out.]


Do you remember them?


They were grisly, brief, almost always with surprising and shocking
endings, and made a huge impression on watchers of any age.


When I compare the impact of Way Out to The Outer Limits, which was
great, and The Twilight Zone, which was greater . . .


. . . Way Out wins the race.


There was not one single element of humor, except that of the henpecked
or cuckolded, and therefore vengeful, husband — a frequent theme.


The music, by Robert Cobert — who would later do Dark Shadows, Kolchak the Night Stalker, and all the Dan Curtis productions of the
1970s — was extremely eerie.


And Dick Smith, who went on to become a Hollywood legend, did the
Gothic makeup jobs.



But the thing is, you can't see them! They're impossible to see.
They've never been officially released to DVD or video, although four,
and four only, are unofficially available in very poor video versions.
The reason they haven't been released involves some complicated rights
issues — but David Susskind, who produced the series, gave copies of
the shows to The Museum of Broadcasting in New York City, now known as
the Paley Media Center, on West 52nd Street.


It is only there that these shocking little segments of early Sixties
television can be viewed.



They can be viewed, however.




Last Thursday, after seeing Our Town at the Barrow Street Theatre the
night before, I went up to midtown and staked out a scholar's console
in the Library of the Paley Center.


I was able to watch four episodes of Way Out, all of which I had seen
in 1961, with a child's (haunted) eyes; and none of which I had seen
again since those unsettling Friday nights in Georgetown, D.C.


The one I was most interested in seeing was the scariest, at least
then, and is called "Soft Focus".



"Soft Focus" is 29 minutes of Barry Morse playing a photographer who
has invented a retouching agent for his portraits of people, which has
the side effect of retouching their actual faces. Thus a little boy
loses an ugly birthmark which "Dr. Pell" has erased in the lab. Then,
too, an actress whose face has been scarred is able to be beautiful
again with the help of Dr. Pell. Dr. Pell's wife, however, Louise, is
involved with her husband's young assistant. Louise doesn't know that
her husband knows what is going on.



He begins to 'touch up' a photograph of her. She starts to age. (He
touches up his own photograph, too, to make himself look younger.) When she
begins to look about 50 or so — and she looks awful — her boyfriend
jilts her. Enraged and abandoned, she enters her husband's studio and
right in front of his eyes, pours the whole bottle of solution on his
portrait. He screams, and in the climax, which no one who saw it in
1961 ever forgot, he turns towards his gloating wife, and towards the
camera, with half his face wiped away, a perfect blank.


Dick Smith accomplished the effect perfectly. Barry Morse just stares
at you, the left side of his face a smooth nothing of putty.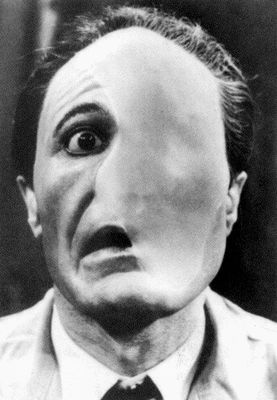 "Soft Focus" was written by Phil Riesman, Jr., a prolific TV writer who
specialized in history-based shows but wrote three episodes of Way
Out. The basic idea of Reisman's script for "Soft Focus", the
unrelenting evil of the villain's vengeance, and of his philandering
wife's vengeance in return, is completely uncompromised. The
television mise-en-scène is perfect, mostly closeups, with two long
shots, one to show that Dr. Pell knows about his wife's infidelity; and
the last shot of the show, viewing the screaming, flailing, helpless
victim of his own wrath in shadow, shadow, shadow.



There is no moral or religious significance to "Soft Focus", nor to
any of the Way Out teleplays — and I am interested in finding such
significance when I can. "Soft Focus" is a completely shattering use
of the small screen to horrify and make an indelible impression on the
viewer, again of any age.



Take the time to visit the Paley Media Center on the north side of
52nd Street between Fifth Avenue and Sixth Avenue. There's much else to
see.


I was told by the very nice keeper of the consoles that no one ever
asks for these Way Out episodes except one peculiar gentleman who
comes twice a year and asks to see them all.


She doesn't know his name but seems to remember the face. This is
really true.



I wonder if his name is Pell. I wonder if his face is even more
memorable than she says.


[Editor's Note: There was a bit of humor in the series, provided by
Dahl's on-camera introductions, in the first of which he said, "The
story we are about to see is
not for children, nor young lovers, nor people with queasy stomachs. It
is for wicked old women."