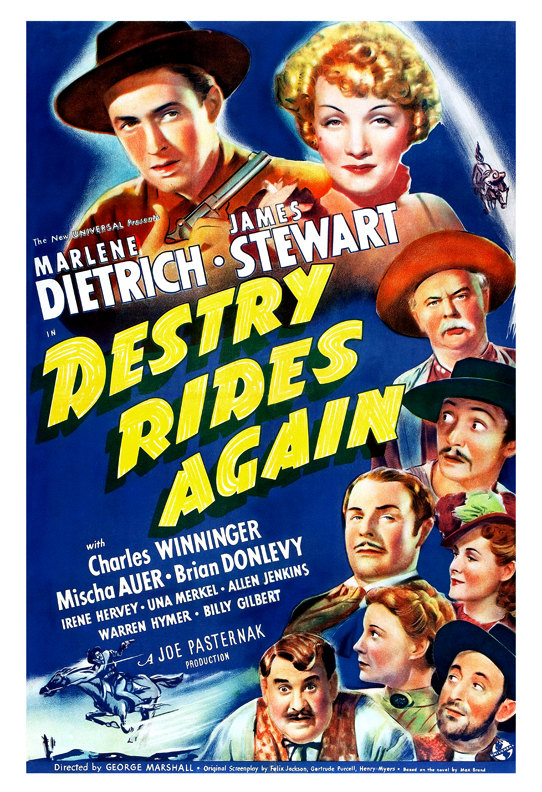 This film, from 1939, is one of the most entertaining of all Westerns but one that's very hard to categorize. At its heart is a sort of romantic comedy dynamic between Tom Destry, played by James Stewart, and Frenchy, played by Marlene Dietrich.
Theirs is the relationship in the film you care about, though it doesn't develop in standard romantic comedy terms, and doesn't have a romantic comedy denouement.
Stewart plays an idealistic deputy sheriff who doesn't believe in gun play — Dietrich plays a hard-as-nails dance hall girl whose heart is touched by the sheriff's decency and sly, insinuating machismo.
This was Stewart's first Western and he was undoubtedly cast because he went against the Western hero type. His bashful, apparently harmless geniality is a perfect mask for the steel backbone Destry turns out to have.
As a cynical teaser and manipulator of men, Dietrich was cast precisely to type, though she played this role in an uncharacteristic way.  She seems to be having a total blast in the part, as befits the lighthearted tone of the movie, and her performance, even when things get dark, is an absolute delight to watch.
Dietrich performs in the dance hall, of course, and is given a number which has since become iconic — "See What the Boys In the Back Room Will Have".  There's a spirited cat fight between Dietrich and Una Merkel which has a oddly erotic quality.  It's ended when Destry douses them with a bucket of water, which turns their clothing into vexing sheaths — mild stuff by today's standards but it caused some problems with the censors of the day.
Despite the comedic tone, there's a real Western narrative swirling around the lead couple, involving two coldblooded murders and a lot of unpleasant frontier skulduggery.  Things end in a semi-tragic way.
I kept getting reminded of McCabe & Mrs. Miller — there are times in their scenes together when Stewart's youthful, feckless charm and Diterich's world weary but still smoldering sex appeal call Warren Beatty and Juile Christie quite specifically to mind.  The mix of good humor and violence is also echoed in the Altman film.  Destry Rides Again doesn't have the bleak ending of McCabe & Mrs. Miller — it goes out on a bittersweet but inspiring note — but I wouldn't be at all surprised to learn that Altman had Destry in mind when he was concocting his Western pipe dream.