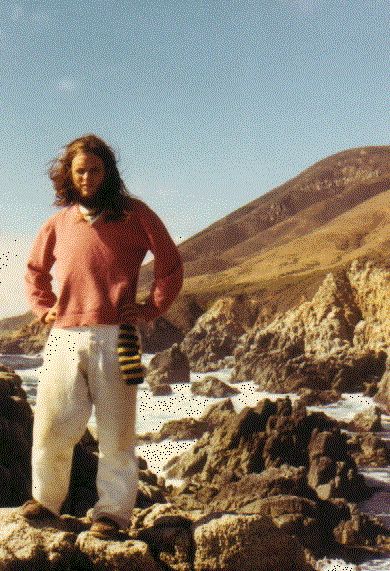 I first saw the Pacific Ocean on the coast of California in 1968, when I was 18 years-old.  I spent a lot of time in California in the ensuing years, and had a lot of beach adventures.
At 19 I was feeling melancholy one day, living in a small house in La Honda, in the hills above Palo Alto, and took off hitchhiking south along the coast towards Los Angeles, where I'd never been.  One ride dropped me off somewhere in Big Sur at dusk and I made my way down to a campfire on the beach where there were about 10 or 15 people spending the night.  They weren't a group — they were just all on the road for one reason or another, and too broke to stay at a motel.
There were hippies, like me, and an ex-serviceman just back from Vietnam.  He said when he returned from his tour his wife had kicked him out of the house.  When I asked him why he said, "She just didn't want me anymore."
There were a couple of small-time dope dealers heading back from San Francisco, who offered to drive me down to Los Angeles the next day and let me stay in their house, an offer I took them up on.  I was crazy back then, or maybe just 19 — I didn't think anything bad could happen to me, and nothing did.  The dealers were nice guys.
People shared joints and wine and whatever food they had.
This was my first real experience with The Beach, which, when it's capitalized or spoken in a certain tone of voice, means only The California Beach.  Not just a place — another world.