I
caught "The Great K & A Train Robbery" with Tom Mix on the Western
Channel once in the wee hours of the morning. It was a pretty good
print, from the Killiam collection, with a piano score by William
Perry. It was the first Tom Mix feature I'd ever seen.


The film knocked me off my feet. It's a mad, delirious juggernaut of a movie — preposterous, breathtaking and brilliant.



It
has the sort of silliness of set-up and incident that one associates
with serials. Mix makes his entrance dangling from a rope sling up
under a sheer rock overhang a couple hundred feet in the air. He's
wearing a Lone Ranger mask — since he's working undercover as a
railroad detective. When the train robbers he's eavesdropping on
discover his presence he slides down the rope directly into the saddle
of his horse Tony and gallops away.


From
that moment on the pace rarely slackens — it's as though all the
action climaxes of a twelve-part serial have been strung together into
an hour-long feature, with just enough space in between to tell a very
simple story. And what action climaxes they are. Gasp-inducing stunts
on horses and moving trains, some of the most exciting and beautiful
running inserts in the history of Westerns — most of it shot in the
awesome landscape of Royal Gorge, Colorado and vicinity.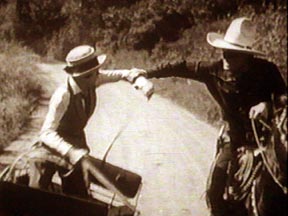 The
tone is lighthearted but never campy — the impeccable photography, the
rigor and daring of the stunts, and the frank virility of Mix himself
lend it all a kind of muscular gravity. Yet its speed and the
virtuosity of its photography and action staging give it a lyrical
quality, too — a lilt that is intoxicating.


We're a long way from the grit and grim morality of William S. Hart's Westerns. The tone is in fact closer to that of
a Buster Keaton silent feature, and very nearly as sublime.



There
are some disappointing lapses — a few cheesy-looking moving cycloramas
outside the train windows and behind Mix and leading lady Dorothy Dwan
as they ride double on Mix's horse . . . some lame ethnic humor
involving a black servant . . . an anti-climactic final round-up of the
bad guys in a cave with an underwater entrance (!), which is a real
let-down visually after the earlier confrontations on the hurtling
train.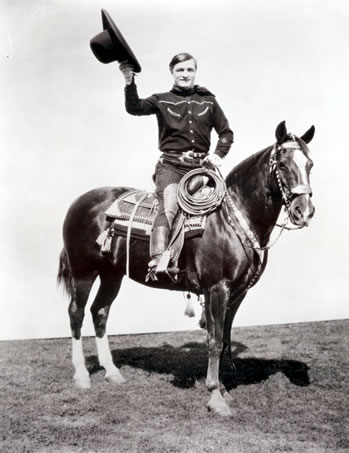 But Mix and Tony make a lovely screen couple, Dwan is charming and energetic, the intertitles are witty — and the film
is filled with exquisite, unforgettable images.



It's superlative entertainment — one of the genuine miracles of silent cinema.



[The first two images above are from the Silents Are Golden web site — one of the great Internet resources for silent film. Check it out!]