Harold
Lloyd's Why Worry? (from 1923) is an almost perfect film. Its scale
is relatively small compared to the films that bracket it in the Lloyd
canon, with a more modest action finale. It lacks the breathtaking
spectacle of the climactic sequence of Safety Last and the epic
momentum of the race to the rescue in Girl Shy, but it makes up for
this with a delirious escalating rhythm and a truly romantic lyricism.
The "love interest" is effectively integrated into the plot and
unusually strong for a slapstick comedy.


One
fair criticism one can make about Safety Last concerns the decidedly
unromantic notion that Harold must become financially successful to win
his true love. This leads him into acts of physical courage by the end
of the tale, but we never quite lose the idea that he's risking his
life for cash — the girl comes to seem like a trophy that goes along
with it.


Girl
Shy has a more developed love story but, again, financial success is
the sine qua non of romance, and even when Harold attains it, his final
triumph is still predicated on the fact that his rival for the girl's
affection is already married. The actual, personal love story gets lost
(or perhaps cheerfully abandoned) somewhere along the way.


The
issue of acquiring wealth doesn't arise in Why Worry? because Harold
starts off rich, and that's his problem — he's selfish, spoiled and
self-involved. It's almost a relief to see this critique of the wealthy
set down amidst Harold's more familiar personifications of the
single-minded near-manic American go-getter.


His
character here is a hypochondriac, obsessed with his health. He travels
with his nurse, the ever-vexing Jobyna Ralston, and his butler to a
small tropical country for "recuperation" from his non-existent
maladies. Ralston is secretly in love with him, apparently seeing
something in him that we can't — at least not yet. He'd be in love
with her, too, we sense, if he could ever look beyond the end of his
own sniffling nose.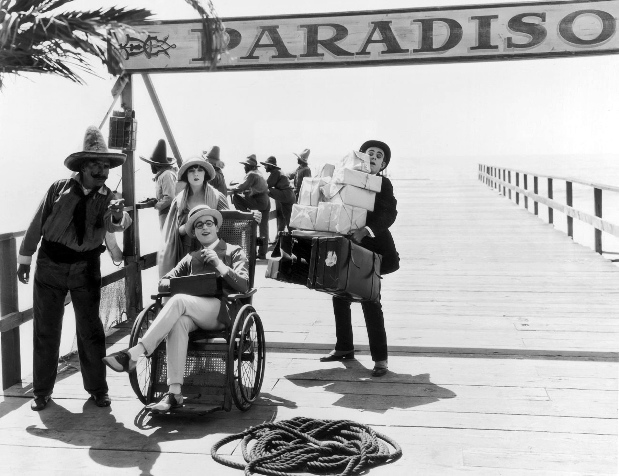 When
they arrive in paradise, the little country is in the grip of a
revolution. The gag that propels most of the rest of the comedy is that
Harold can't imagine that anything that happens in the world isn't
taking place for his personal convenience. He fails to notice the
mayhem around him. Paradoxically, this makes him behave heroically —
since he doesn't perceive the jeopardy, he overcomes it easily at every
turn.


One
can read this as an image of American arrogance — what's a little
revolution in a third-world backwater to us? One can read it
simultaneously as a sort of ironic vindication of American optimism, of
a naive Yankee ingenuity. What one can't read it as, in the context of
the story, is genuine heroism. Harold isn't actually triumphing over
danger, since he doesn't see anything as really dangerous — not to
him.


But
eventually things become more complicated and interesting. When he gets
thrown into jail by the insurgents, he finally begins to realize that
something is amiss — he thought they were escorting him to his hotel.
He's locked into a cell with a violent and gigantic maniac, whose
violence is currently exacerbated by a howling toothache. Harold's
refusal to take him seriously as a menace seems to perplex the giant,
and soften him. "Let's escape," says Harold, with blithe practicality.
They do, and Harold manages to extract the aching tooth — making the
giant his pal for life, and very soon his accomplice in putting down
the revolution and restoring order.


This
is the first stage in Harold's moral rehabilitation — his democratic
solidarity with the outcast giant and his act of simple, practical
kindness towards him get for Harold in return the giant's awesome
strength, which, combined with Harold's wit, makes for an unstoppable
force.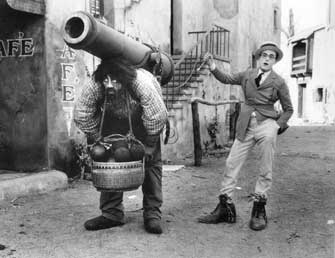 Meanwhile,
Ralston has gotten lost and is hiding out from the insurgents dressed
as a man, a caballero. Somehow this makes Ralston even more vexing,
both to us and to Harold. When their paths cross again Harold is able
to see her, out of the usual nurse's uniform, as a distinct person —
not just as a provider for his needs. All his defenses crumble. "Why
didn't you tell me I was in love with you?" he demands petulantly.
That's the residue of a character he has already started to shed.
Seeing Ralston in danger makes this whole revolution personal for
Harold — his half-conscious or merely practical heroism now becomes
deliberate and important. He is prepared to enter the world fully,
engaged not just as a restorer of order but as a committed lover. He
has grown up.


He and
Ralston and the giant, equal partners now, quickly defeat the insurgent
army and sail off happily for America, where the giant gets a job as a
traffic cop and Harold and Ralston get married. The film ends, sweetly,
with Harold collecting the cop to come and celebrate the birth of his
child.


The
lyricism and romantic conviction of the tale unfold in an unbroken
chain of evolving slapstick incidents which tumble into each other like
the incidents of a dream — perfectly logical until you think about
them for a second. The gags, always ingenious and funny, become
beautiful, too, as they do, for example, in the train sequences of The
General. The girl becomes more than a sidekick or a goal — she
becomes, in fact, the whole motor and point of the story.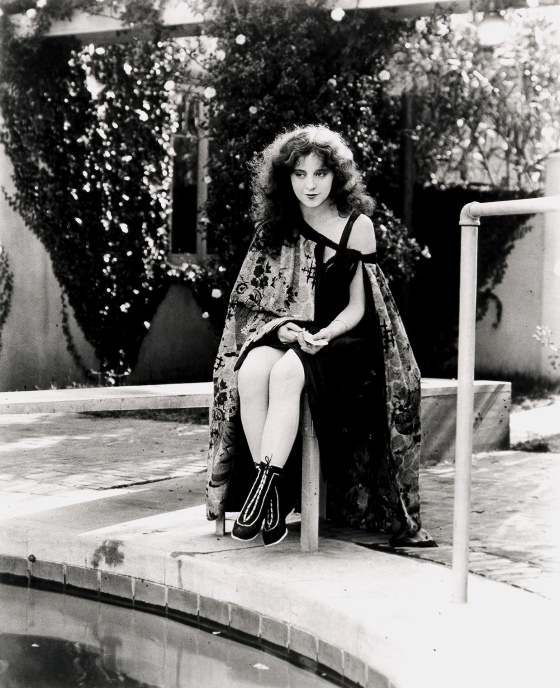 At the
beginning of the film, there's a beautiful blue-tinted scene set on the
deck of the steamer taking the party south — a dance lit by strings of
lanterns, with a calm sea rolling along behind them. It's there that we
realize that Ralston is in love with Harold and there that we decide he
ought to be in love with her. It prepares us for a romance — and that
is what we get in the end, in the unlikeliest and loveliest of ways.