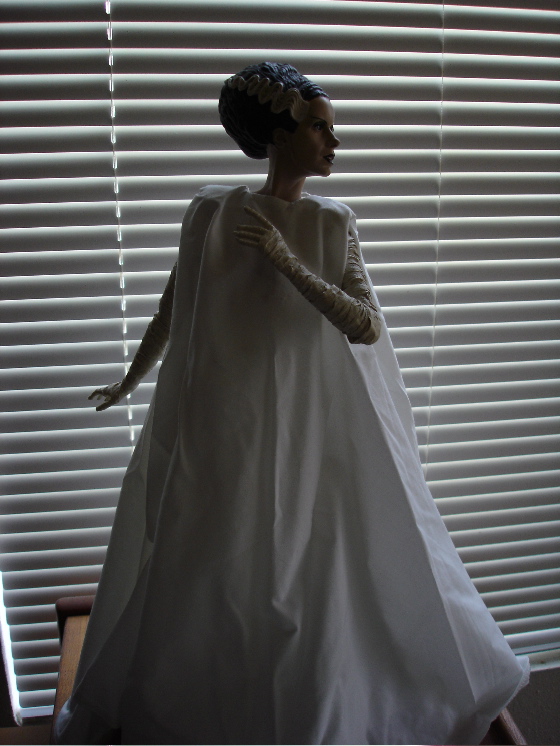 The amazing object above is an 18″ statuette of the Bride Of Frankenstein made by Sideshow Collectibles.



Sideshow
started out as a model and miniature shop for the film business, with a
sideline in design and sculpting for toy companies. Back in the late 90s, Sideshow
decided it could make better toys, and have more fun, if it got into manufacturing and
so started its own line of 8″ figures of characters from the classic Universal
horror films.



My sister,
shopping for toys for her kids one day, ran into the really
extraordinary 8″ figure they made based on the monster from The Son Of
Frankenstein. She thought I would like it and bought me
one. I loved it — thought it was head and shoulders above other
Universal figures I'd seen, with its first-rate sculpting and its
attention to details in the acccessories. It became one of my
prize possessions — one of my penates, my household gods.





A lot of other
people felt the same way — the 8″ line sold incredibly well and
inspired the company to get more ambitious. I'd checked out the
other 8″ Universal figures but only really liked the bride from The Bride Of Frankenstein. The first 12″ Sideshow figure I saw blew me away, though — Lon Chaney's Erik, from The Phantom Of the Opera,
in his Masque of the Red Death costume. (See it here.) It
remains one of the greatest 12″ action figures of all time.



Again, it was my sister who discovered it and bought it for me.
Tragically, I discovered that almost everything Sideshow produced in
the 12″ format was brilliant. I started collecting them
feverishly. They would sell out quickly in retail establishments
and on Sideshow's web site, so I had to track many down on eBay.



The success of the 12″ line, which came to include historical
figures as well as characters from TV shows, led Sideshow to up the
ante again with their 18″ line. These were not fully articulated
action figures. Sometimes they had slightly posable wire
armatures, sometimes they were cast fully in polystone. The best
of them — like the vampire from Murnau's Nosferatu — were real works of art.



They were so expensive that, sadly, I had to get more
selective. I couldn't resist the 18″ Bride, figure, though.
She's just amazing.