In the annals of Hollywood degradation, no tale is more sordid than that
of Barbara Payton.  In her earliest days in the film business she
starred in pictures opposite James Cagney and Gregory Peck — then hit
the skids and ended up in her 30s hooking on the Sunset Strip, addled
by drugs and alcohol, bloated and with a few of her front teeth
missing.  She was dead at 39.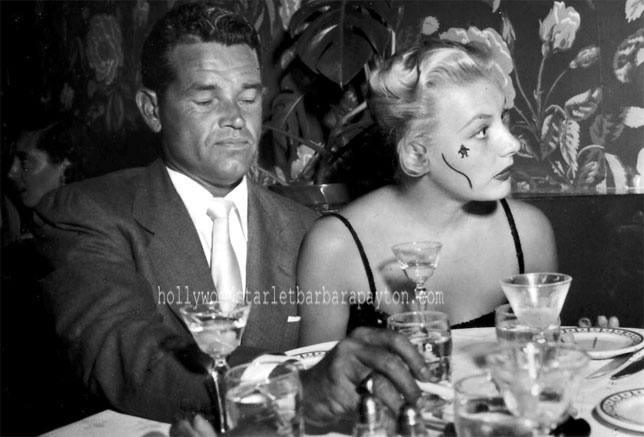 Her spiral to the bottom seems to have started with her disastrous alliance with B-movie star Tom Neal (above), who achieved immortality as the lead in the classic film noir Detour but whose arrogance and violent temper kept him perpetually on the
fringes of the movie business.  Payton tried to leave him and
became engaged to classy but alcoholic star Franchot Tone (below).  Neal
confronted Tone one night at Payton's home and beat him within an inch
of his life, creating one of the biggest tabloid scandals of the
50s.  Tone recovered, barely, married Payton and divorced her a
few months later — apparently because she was cheating on him with
Neal.
Payton's career never quite recovered, mainly because she couldn't slow
down.  A sex addict and an increasingly dysfunctional alcoholic,
she went from one bad relationship to another, and by the time she
realized that her reputation had ruined her career it was too late to
rescue it.  She proceeded down her road to oblivion with almost
manic determination, eventually selling blow-jobs on the Strip for $5 a
pop, with several arrests for prostitution and theft along the way.
John O'Dowd has written a detailed and sympathetic biography of the doomed
starlet, plausibly suggesting that some sort of childhood sexual abuse
resulted in an overwhelming self-loathing in Payton — that on some
level she willed her own destruction.  Her story can take its
place with the one Robert Guralnick tells in his magnificent two-volume biography of
Elvis Presley as an object lesson in the way American celebrity can
destroy the fragile psyches of damaged innocents.

It's all totally heartbreaking.  You might pick up this book
looking to relish the sheer sordidness of Payton's story — and there's
never been a more grueling (or more responsibly researched) examination of Hollywood sordidness — but you'll
end up touched by its portrait of an oddly appealing lost soul.
O'Dowd has a web site devoted to Payton here.