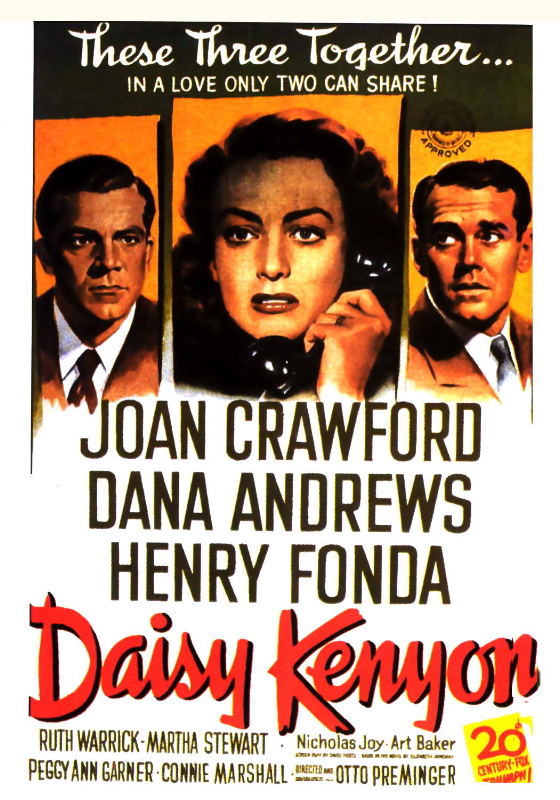 Fox home video has been releasing a lot of terrific DVDs in their Fox Film Noir
series — great transfers of entertaining films with generally
excellent commentaries and brief featurettes about the movies and their
creators. They're running out of films from their vaults which
can plausibly be called noir — except that these days, apparently, just about anything can plausibly be called noir.
Daisy Kenyon, the 23rd title in
the series, is an extremely interesting film by Otto Preminger from
1947 which could plausibly be called domestic noir,
though it doesn't involve crime or violence in any significant
way. It's basically a soap opera centering on a very complicated
love triangle, but it's disturbingly dark, in ways that wouldn't have been
conceivable in Hollywood before WWII.
Joan Crawford plays a career girl in New York who's having an affair
with a married man, played by Dana Andrews, a charming self-centered
lout. Neither character seems to feel any moral qualms about the
affair, and Preminger presents it with an almost cynical nonchalance
that's strikingly adult and modern.
Crawford meets an equally charming but somewhat unstable returning war
vet, played by Henry Fonda. Fonda's character feels that the
world and everyone in it has become dead, and isn't sure if this
feeling has to do with the loss of his wife in a car accident or with
his experiences in combat. The war, and its collateral moral damage, are also referenced in an off-screen subplot in which
the Andrews character defends a Nisei war vet whose farm was stolen
from him while he was off fighting for his country, heroically, in
Italy. He loses the case.
According to Preminger's biographer Foster Hirsch, these elements
were not prominent in the novel on which the film was based. It
was Preminger and his
screenwriter who chose to associate the moral confusions and neuroses
of the characters with the broader anxieties of post-war American
society, issues of guilt over the price of victory, over the
psychological wounds suffered by the soldiers who won that
victory. It's a theme one finds
in many noir and noir-inflected films of the time, sometimes explored explicitly, as it is here, sometimes only by implication.
Perhaps Preminger was too explicit. Daisy Kenyon
was a box-office disappointment. Without the cover of the
crime-thriller genre, elements of which figure to one degree or another
in most other domestic noirs, the film's investigation of post-war American angst may have cut too close to the bone for contemporary audiences.
The mood of the film is almost unbearably tense and unsettling,
eventually involving child abuse and a scandalous divorce trial played
out in the tabloid press. There had always been soap operas like
this in American movies, of course, but there was always a clear sense
of when moral boundaries were being crossed and what the consequences
would be. Daisy Kenyon plays out in a world in which moral boundaries seem to have been erased.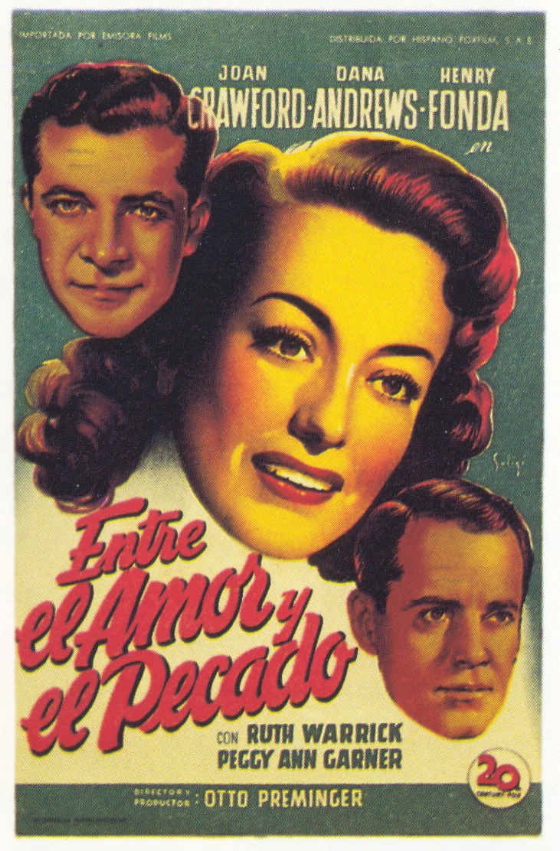 The Spanish title of the film translates as "between love and sin"
but the tale offers few clues as to where one stops and the other
begins. The romantic triangle is resolved at the end, more or
less, with everyone doing the "right" thing — but there's hardly a
sense of moral triumph. We feel that all the characters are going
to remain adrift in a morally ambiguous universe, trying to walk a line
that none of them can see clearly. This is noir territory, all
right, but strictly domestic, and explored primarily from the point of
view of the female protagonist, which distinguishes it from the classic
noir cycle.