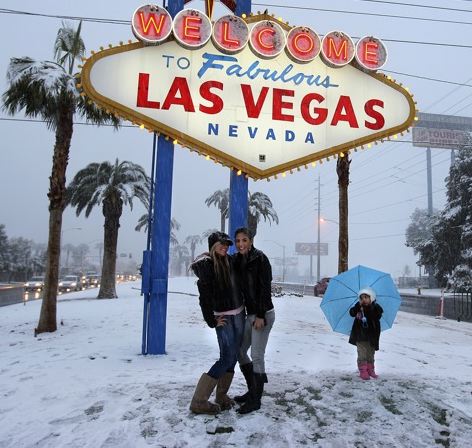 [Image © 2008 John Gurzinski/Las Vegas Review Journal]

It snowed in Las Vegas yesterday — almost four inches of the stuff fell around the valley, much more in some places. It was the biggest snowfall since 1937, when records of such things started to be kept. McCarran Airport was shut down. Girls wearing Ugg boots, which usually seem so preposterous out here in the desert, were the only people prepared for the event.

Having worked all night and crashed in the morning, I slept through most of it, so it was surreal beyond words to wake up briefly in the late afternoon, wander into the kitchen for some water and peek out the window — the Strip was barely visible through the veil of white. I turned on the radio to confirm what my eyes had apparently seen — a snowstorm in Sin City. It felt very cozy to get back in bed and doze off again.

Before dawn now, as I write this, the snow has stopped but there are still patches of it on the ground, on the pine trees and the steps outside my apartment. A strange visitation.