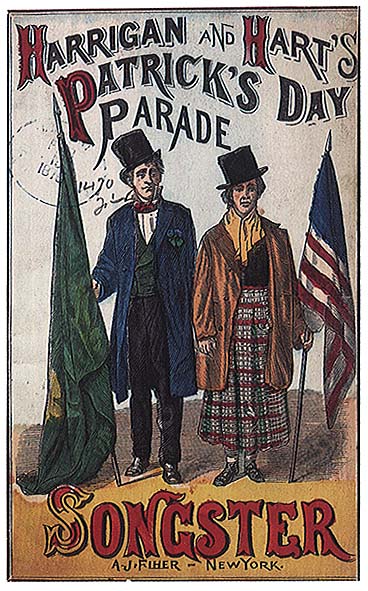 Before George M. Cohan, before Jerome Kern, there was Edward Harrigan. He wrote comedy sketches about immigrant life in New York City at the end of the 19th Century, later expanding them into full-length musical shows which became wildly popular. He and his partner from an earlier career in minstrelsy, Tony Hart, performed in the shows, for which Harrigan wrote the songs, with music by David Braham, sometimes called the American Offenbach.
The songs on their own were just as popular as the shows but aren't widely known today, which is a shame, since they're wonderful — sweet, tuneful evocations of working-class life in Manhattan when folks from all over the world crowded into urban ghettos and tried to figure out a way to live together, to be Americans together.
Mick Moloney has recorded a delightful collection of Harrigan and Braham songs, including their wonderfully cheerful "Patrick's Day Parade". (You can buy Maloney's album here.)
"Patrick's Day Parade" moves me because it records the joy of people who were in their time so proud to be Irish and so proud to be Americans, and somehow saw no difference between the two kinds of pride. "We'll shout hurrah for Erin go bragh and all the Yankee nation!" We're unspeakably lucky to live in a country where such a paradox makes sense — where all of us can be proud to be Irish, even if our ancestors never set foot in the Emerald Isle. It's the kind of cultural
appropriation that's part of the miracle of America.

People have likened America to a melting pot, but it was never that — more like an Irish stew. The beef stayed beef and the potatoes stayed potatoes . . . it was the combination of disparate things that made the dish so satisfying, and still does.
So as one American to another — Erin go bragh! (Or, as Michael O'Donohue used to say, in the true spirit of Harrigan and Hart — Erin go bragh and panties!)