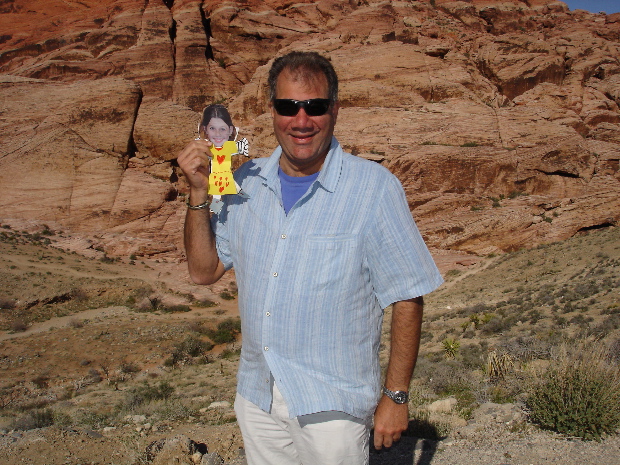 My friend Mitch was in town for a few days recently. Mitch is a wonderful fellow, but a bit eccentric. He has an imaginary friend, "Michaela" — actually a cut-out paper doll — who shares all his adventures. He talks to her and even insists on ordering extra food for her when we're out at a restaurant.
Mitch and I played some poker — we both had some good runs and some bad runs. It was great fun but far from profitable. The photograph of Mitch above, putting a brave face on things, is fuzzy because I couldn't use my flash, since taking pictures in a card room is forbidden.
The real problem was Michaela, who kept sneaking off to play the slots while we puzzled over the cards. She lost a small fortune in quarters during the times it took us to track her down.
On the bright side, she made friends with a showgirl who was dancing, for some obscure reason, under the Welcome To Fabulous Las Vegas sign at the end of The Strip. Michaela says she feels right at home in Las Vegas, because it's an imaginary town.