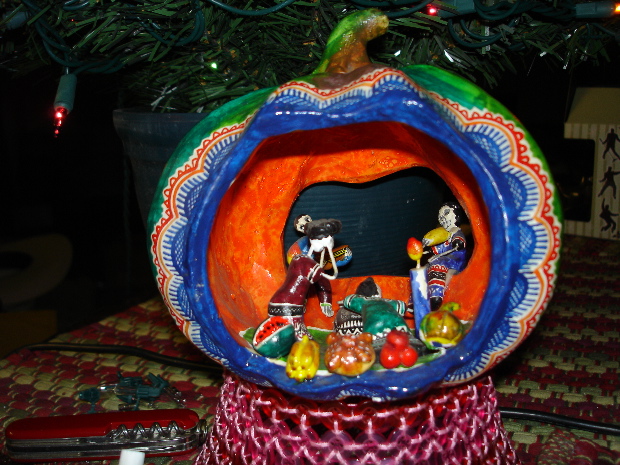 A couple of Christmases ago my sister gave me the remarkable object pictured above. It's a hollow ceramic pumpkin in which a funeral scene is being enacted. A woman holds her head and weeps, another throws herself upon the coffin of the departed, another seems to be eating bread, while a man supplies music on a guitar. All of the figures have skull faces — this is, of course, a dia de los muertos diorama. There is fresh food laid out for the spirits of the dead.
The pumpkin rests on a cone base made of hundreds of pink button sewn together.
My sister found it in an eccentric toy shop in Los Angeles. The proprietor had bought it years ago in Mexico — he believed it to be about a quarter of a century old. It was made by a man named Alfonso Castillo from Izúcar de Matamoros, Puebla, Mexico, in the southern part of the country. Mr. Castillo is apparently part of a large family of artisans from that region — here's a picture of him at work:
Mr. Castillo's dia de los muertos pumpkin had sat in a case in the toy shop for ages, much admired but never purchased, until my sister had the good sense to snag it.
It's one of the coolest things I own.