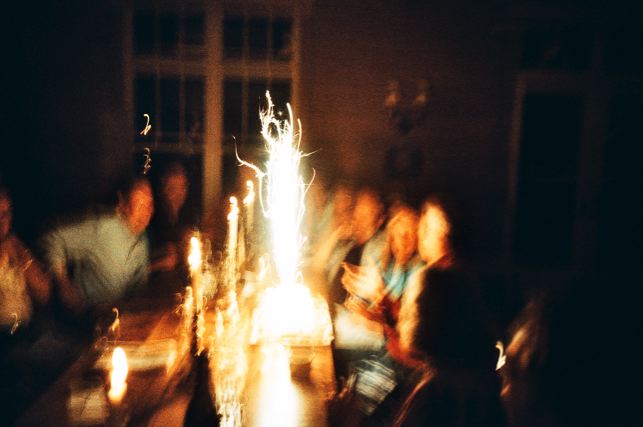 [Photo by Hugh McCarten]
The evening of our third day at the ranch was what we'd all come for. Two birthdays, two birthday cakes and one hell of a party.
John's cake arrived with fireworks.

[Photo by Hugh McCarten]

Elaine's was all about the sheer drama of chocolate and sugar. The cakes capped an amazing feast, and were followed by more music. Elaine started things off with a song dedicated to John. She said she never sang, even though John always asked her to — so she gave him the gift of singing a song called "Something Great". It was by far the musical highlight of the week, emotionally speaking — straight from the heart . . . right on target, so direct.
Among many other great musical moments was John's lead vocal on an old Dylan song, "Tomorrow Is A Long Time".
John's cousin Marina, a veteran of many legendary gatherings at the ranch, and about whom more later, had rolled into town for the occasion — many local friends also joined the festivities.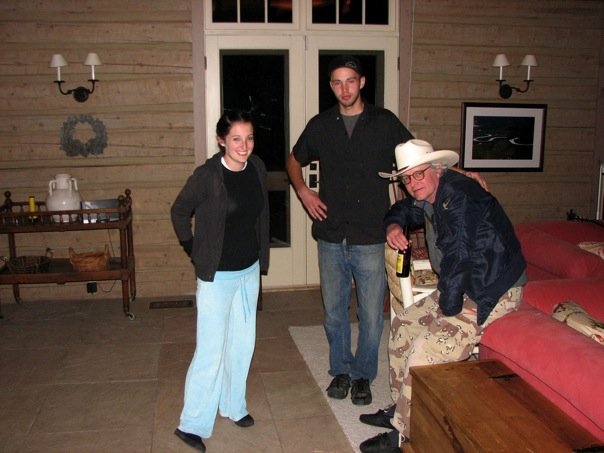 [Photo by Eli Dokson]

Above, the author with Cotty's daughter Corinne and John's son Will. Will and I had some great conversations about stuff like film noir while others chattered on about subjects decidedly less cool. Corinne contributed materially to the general hilarity by agreeing to read the touching spoken interlude of "The Salami Song", a little thing John and I wrote on a drunken evening in New York, back when dinosaurs ruled the earth. It's a number that never fails to bring a tear to the eye and to remind us all of the dangers of mixing alcohol and songwriting.