[Photo by Hugh McCarten]
It was sad to leave the Carneys' beautiful ranch and so many good friends, so many good people, some of whom I've known since time out of mind, some of whom, like Corinne and Ella and Will, have just been born (relatively speaking.)  But . . .

The heart must pause to breathe
And love itself must rest.
So I jumped in The Ghost and headed, not south towards home, but north to Cody, Wyoming, the town founded by Buffalo Bill which now hosts The Buffalo Bill Historical Center, a museum I wanted to check out.  Cody is about four hours north of Jackson.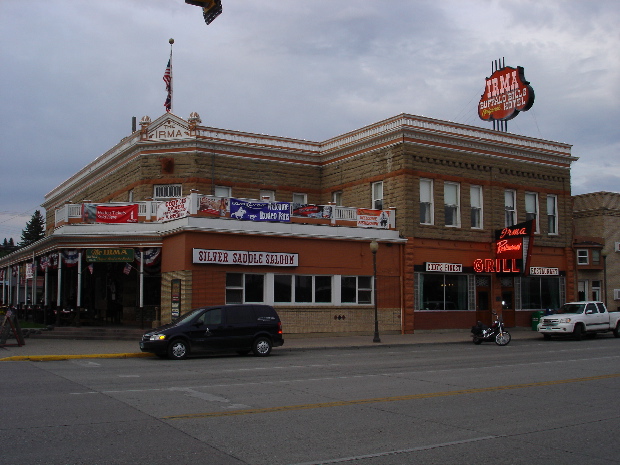 The Irma Hotel which Bill built back in 1902, named for one of his daughters, is still there in Cody, and not much changed outwardly, but it doesn't welcome smokers — Bill and his cigars would be turned away, I guess — so I checked into a lovely, hospitable Super 8, had a few beers and crashed.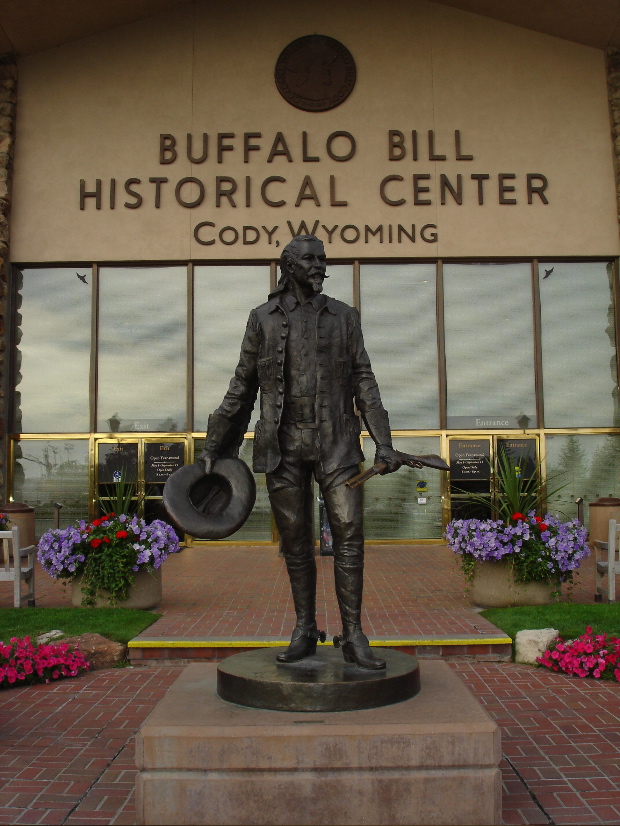 I was up bright and early for the opening of the Historical Center, which I soon discovered is one of America's great museums.  It's not only packed with artifacts from Bill's life and Wild West show — the things I went there to see — but also has a superb gallery of Western art, another devoted to Plains Indian culture and a firearms museum that boggles the imagination.
The Western art gallery has several wonderful N. C. Wyeths, as well as fine works by Catlin, Russell, Remington and just about every other Western artist of note.  The Plains Indian exhibit has examples of exquisite Indian craft, some of them dating back to pre-Civil War days.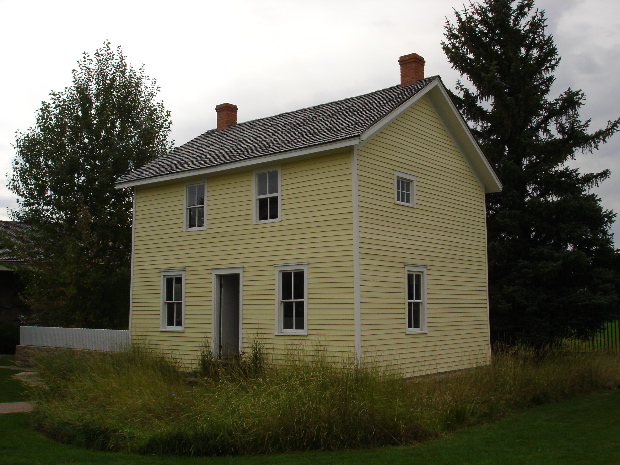 The Buffalo Bill galleries are filled with supremely evocative memorabilia.  You can stand near a skirt and jacket once worn by Annie Oakley and see how small she was.  You can see what's left of Lucretia Borgia, Bill's legendary buffalo hunting rifle.  Outside, you can even see the house where Bill was born, above, transported there from the banks of the Mississippi River in Iowa.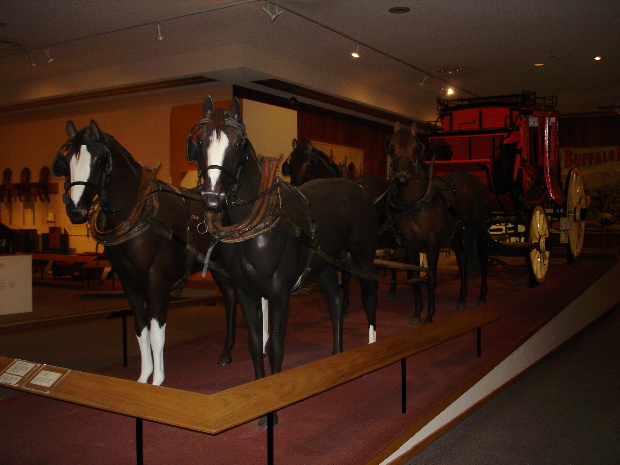 You can see the original Deadwood Stage used in the Wild West show, above, as well as a back-up coach used on one of Bill's European tours, below — most of the crowned heads of Europe were given rides in this coach as a special treat: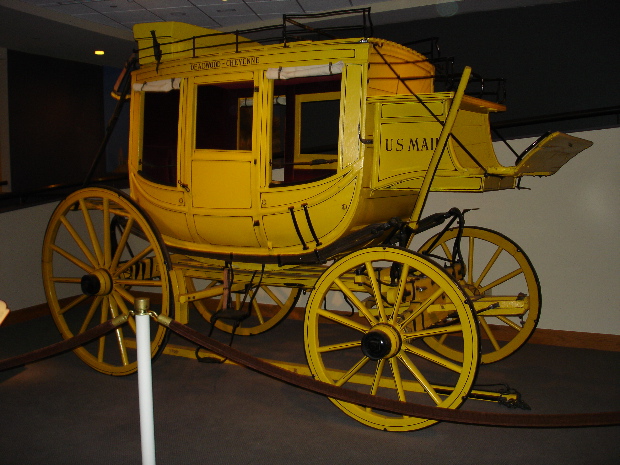 Standing in the presence of these vehicles sent chills down my spine — they were part of the spectacle that created the legend of the Old West in the American imagination, and the world's imagination.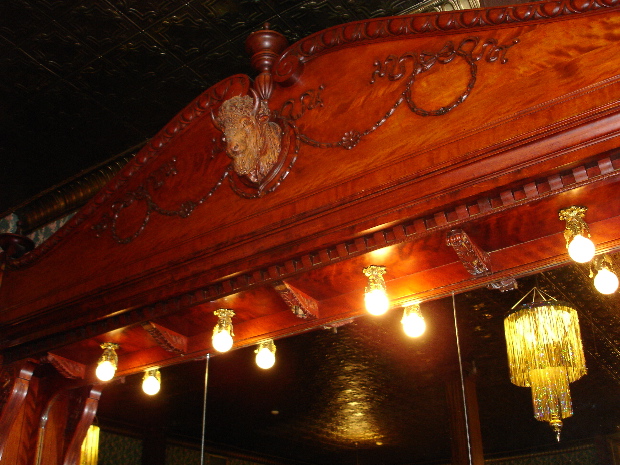 Before leaving town I had a meal at the Irma.  The old saloon with the famous cherrywood bar, above, has been preserved, with the old cash register still in place.
But the saloon is just a restaurant now, a non-smoking restaurant.  There are Western knick-knacks lined up on the shelf behind the bar, under the big mirror, instead of bottles of spirituous beverages.
Overweight tourists in shorts line up at a buffet to load on more weight in a room where Bill Cody and General Phil Sheridan, hard-bitten princes among men, once drank Brandy and puffed on cheroots, talking over old times on the frontier.
Our strain grows weaker.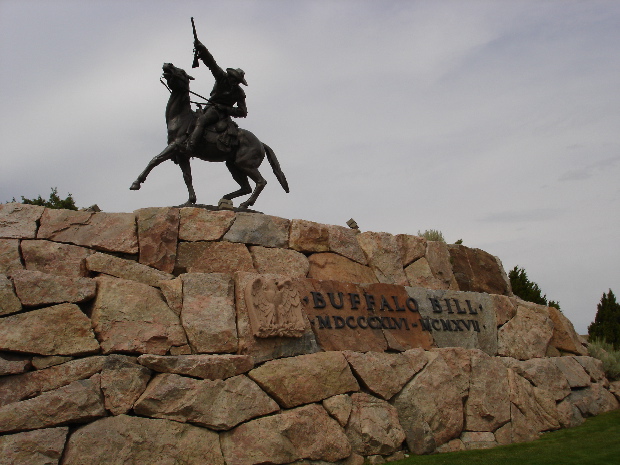 That afternoon I had an awesome drive through Yellowstone National Park on my way to Idaho Falls, where I stayed in one last motel before the final leg of my journey, a long haul back to Las Vegas.  It was good to be home again, filled with such memories.
At the heart of those memories was the music my friends played up in Wyoming, still echoing in my ears.