Carla Laemmle recently celebrated her 100th birthday. She was the
niece of Carl Laemmle, founder of Universal Pictures, and she had a
modest career as an actress and dancer in Hollywood. She appeared
uncredited as a ballet chorine in the silent version of The Phantom Of the Opera and had a
bit part in Dracula, speaking the first words in that film as a
passenger in the coach taking Renfield to his fateful rendezvous at the
Borgo Pass. (That's her on the left above, wearing glasses.)


She is now the last surviving cast member from those two iconic horror
films, and thus an icon in her own right for horror movie fans.



She interests me for other reasons, because of her life after the
movies. She became the lifetime companion of Ray Cannon, another
Hollywood professional — actor, writer, director — who left the
business to pursue other ventures.


Cannon became a sports fisherman, supporting himself mainly through
writing about the subject. He was among the first to explore the
fishing possibilities of Baja California, helping to popularize the
peninsula as a fisherman's paradise and a potential tourist Mecca. He
fell in love with it in the late 1940s, before the crowds came, spending
much of each year
there on various fishing expeditions, and eventually wrote the text for
a best-selling picture book about the area, The Sea Of Cortez.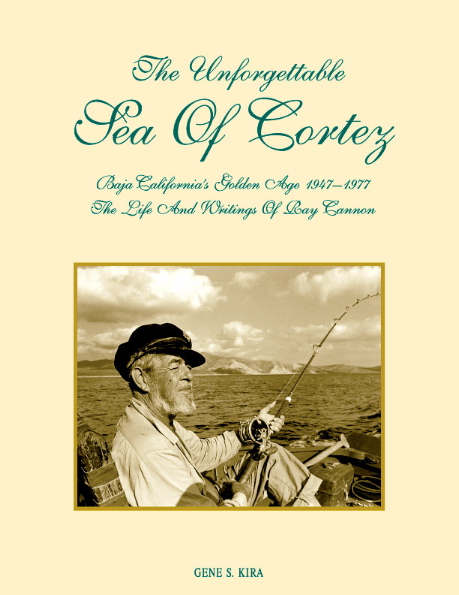 A wonderfully-illustrated collection of his other writings about Baja
California, The Unforgettable Sea Of Cortez, was published recently and
it's a fine evocation of the
peninsula in the days before the tourist boom. Outside the precincts
of Ensenada at the top of it and and Cabo San Lucas at the bottom of
it, Baja California hasn't changed all that much since the time Cannon
discovered it. Over-fishing by commercial interests has depleted the
Mar de Cortes to an alarming degree, but it's still one of the richest
sports fishing spots on earth, and the gracious old city of La Paz has
yet to be despoiled by the California duppies.


The landscapes and seascapes that Ray and Carla loved are still there
— severe and beautiful and brimming with opportunities for adventure.