This legendary recipe, long sought-after in culinary circles, passionately admired by icons of the silver screen, dismissed as a myth, decried as hype, is now revealed for public scrutiny. Two days ago, scientific cooks convened in the ultra-moderne mardecortesbaja test kitchen to put it through its paces and to report on the results without fear or favor.
Finally, the truth can be told. This is not the simplest recipe I have ever posted on this site. It requires some hard work and some precise timing. But here is the bottom line — if you follow Scott MacQueen's rule below, as I did, religiously, you will find you have concocted something miraculous. It is to stew what Margaux is to vin ordinaire. It is a testament to the fantastical delicacy and complexity of French culture, and makes for a meal both hearty and sublime, an experience both sensual and spiritual. Scott writes:
You will need:

6 slice of bacon — must be nice fat marbled bacon, nothing lean. Oscar Mayer works well.

3 pounds stewing beef

Olive oil

4 cups burgundy or other dry red: I usually buy a minimum of 2 bottles of the same vintage for cooking, and if I have been tony that week and am flush I try to use a better wine so I can serve the same with the meal. This is not necessary, as a basic $8 bottle of burgundy or Cabernet Sauvignon from a reputable vintner works well when reduced by cooking

2 cups beef stock (commercial brands like Swansons A-OK)

2 tablespoons tomato paste (a pain and a waste if you open a small can and have no other use for the remaining paste; to be frugal you can do without, but I think it adds a bit to the body. If you elect to do without it, add about 1/4 cup of ketchup to approximate the tomato flavor)

3 crushed garlic cloves (only use fresh)

1/2 teaspoon thyme

1 bay leaf

Salt

1 pounds mushrooms, browned in butter (I am a pig on mushrooms, and have been known to sometimes increase this by 50% to 100%)

2 large yellow onions (chopped & browned in butter)

Roux: 1/2 cup white flour browned in 1/2 cup melted salted butter


Be sure to wear a good apron that covers shirt to thighs as this can be messy. [Editor's Note: The risk-taking scientific chefs worked in casual clothes without protection.]

Peel and dice your onions and place aside in bowl. Clean and slice your mushrooms and place aside in bowl.

Get a nice large stove-top stew pot. Fill it with the wine, beef stock, thyme, bay leaf, garlic, tomato paste, salt to taste (I use a teaspoon but shouldn't — your mileage may vary, based on the blood pressure needs of you and those you love). Put on low flame on the burner.

Fry the bacon gently until nice light golden brown, with all fatty parts crisped. Save the fat in the pan, put the bacon aside and either nibble on it as you cook (if you are a pig like me) or, thoughtfully, keep it aside to crumble later on a tossed green salad.
[Editor's note: The mardecortesbaja chefs nibbled on the bacon, eventually consuming it all.]


In a new pan, brown up the onions in butter until they are transparent and golden brown, keep on the side. Brown up the sliced mushrooms in same sauté pan. Add the mushrooms to the onions, keeping all of the extruded water juice. Place to the side.

Add about 3 tablespoons of the olive oil to the bacon fat, get it to a medium-high heat before slowly adding the beef to the pan. If you add it too fast, the meat cools the hot fat and doesn't sear the face quickly. Brown the meat quickly on all sides, raising the heat as needed but being careful not to burn it (the fat & olive oil have low smoking points). Watch out for splatter; a splatter screen is helpful if you have one to reduce spitting as you will otherwise get hot spots on your forearms as well as a greasy stove top. Add beef to the pot when browned. I usually need 2 or 3 batches to complete all browning.

Use some of the red wine to de-glaze your pan with a wooden spoon and add the residue to the pot.

Cover the stew pot with a lid, leaving it just slightly ajar for minimum venting to prevent steam build-up. Place the flame on low. Let it cook for 3 hours.

This is a good time to make your roux. You know how — melt butter, drizzle in flour slowly to the hot butter and stir with wooden spoon, letting it get a nice golden brown in color. When all the flour is browned & integrated (no lumps), put aside in a bowl.


Within 30 minutes your house will take on the most intoxicating aroma which you might not notice immediately as it gathers — but someone walking in at this point will begin to salivate and make loud remarks about it. [Editor's Note: No visitors entered the mardecortesbaja test kitchen during the preparation of this dish, but the experts at work there became semi-intoxicated by the aroma.]

At the 3-hour mark, stir again and put the onions & mushrooms into the pot, stirring thoroughly. The mix should now have a nice lumpy stew-like consistency, but still be viscous. If there is no fluid (i. e., if it has boiled away because you had your heat too high), carefully add 1/2 to 1 cup of water until the stew is free flowing (but you shouldn't have to do this.)

Let it cook for another half hour, then slowly add the roux, stirring with a wooden spoon to distribute it evenly. It should have the consistency of a thick, viscous stew.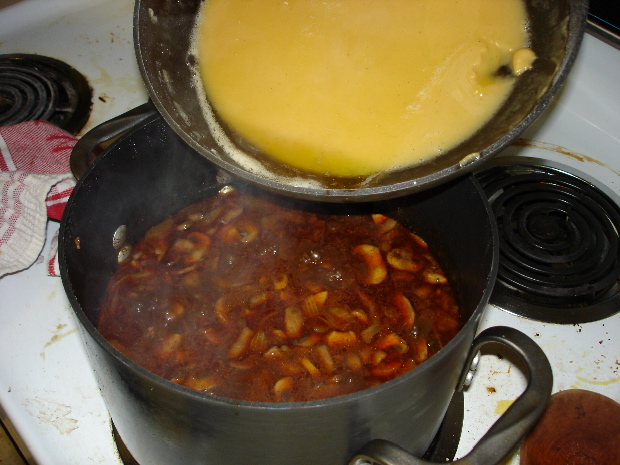 [Editor's Note: Above, the first roux ever made in the mardecortesbaja test kitchen, a stunning success, is added to the pot.]

I always serve this over egg noodles, with a tossed green salad (only a light vinaigrette, or preferably oil & vinegar dressing, so as not to fight the flavors), a good burgundy or Sauvignon comme boisson, and — essential — fresh crusty French bread with whipped sweet butter.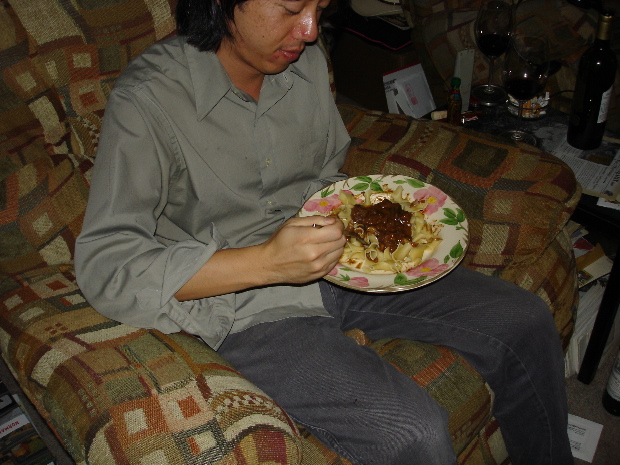 [Editor's Note: The scientific chefs had secured the makings of a salad but were too excited about eating the main dish to bother with it. They also forgot the bread but didn't care — the Beef Burgundy engaged all their senses with its subtle blend of flavors, each somehow distinct after all the simmering.]

If you find that you like this, it is a perfect dish to make in a double batch and freeze. It reheats beautifully in minutes in a microwave (though I prefer to do it on the stove top) and makes for fragrant, elegant cooking on a time budget.


TIPS:

I actually like it better day 2, when it has 24 hours to marinate after cooking. It is more tender and aromatic. Each time I reheat it for re-serving, I put a few shots of red wine into it to "freshen" the wine flavor.
[Editor's Note: What he said.]