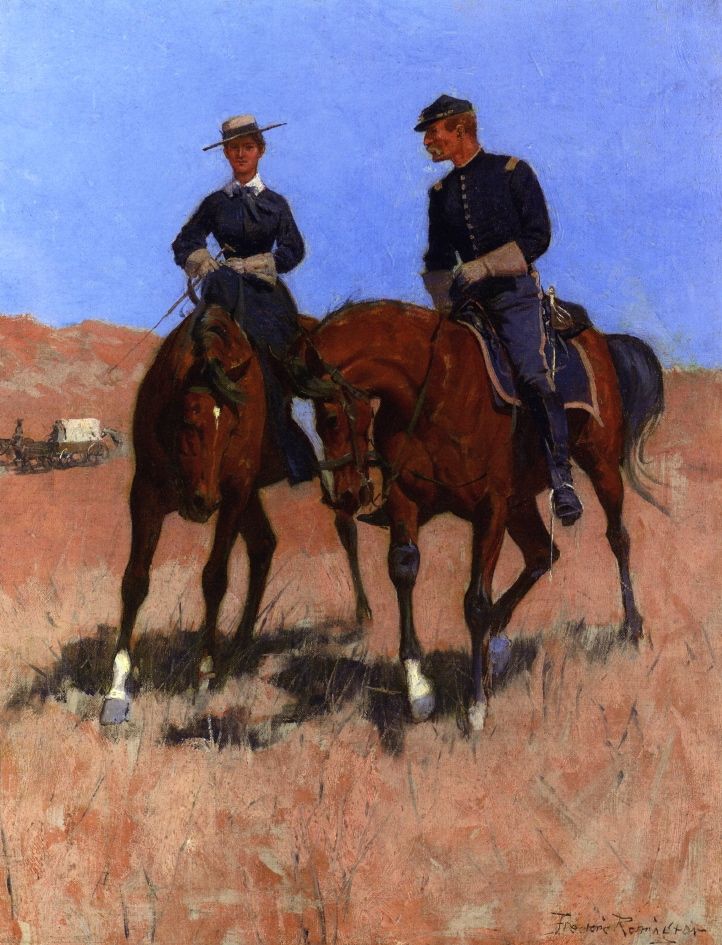 This painting by Frederic Remington was done for Harper's Weekly in 1899, illustrating a story called "The Military Search For Belle McKeever". The title of the painting is Belle McKeever and Lt. Edgar Wheelock.
I don't know if the Harper's story was a work of history or of historical fiction. Belle McKeever was a real person, abducted as a child by Apaches in Arizona in 1869. She and her brother were helping their father pan for gold in a creek on his claim when the father was killed and the girl taken. The boy escaped and alerted the authorities and the military did conduct a search for Belle but I can find no record that she was ever found — yet she appears in the painting as a grown woman, back in civilization.
She became famous because the troopers sent to look for her claimed to have discovered a rich though apparently abandoned gold mine in the mountains where they were searching.  It came to be known as The Belle McKeever Mine, but no one was ever able to locate it again.
I'm guessing that F. McCarthy, the author of the story, supplied a fanciful and fictional happy ending to the story, involving a romance between Belle and a cavalry officer.  The two horses getting set to nuzzle each other would tend to suggest some sort of budding affection between the riders.
It is, in any case, a wonderful and evocative painting.  Note the McClellan saddle that the officer is riding — standard issue for the cavalry from soon after the Civil War to the dismantling of the arm in 1942.
Click on the image to enlarge.