New Orleans means staying at the Parks-Bowman Mansion — a fabulous Victorian home in the Garden District — hanging out with its owners, my friends Adrienne and Bill, and of course eating amazing food.
Above is the wood-fired oven at Cochon, a place that serves up magical dishes, centering around pork, as the name suggests.  Fried pork ears are a specialty.
A visit to Commander's Palace, in the background above, just a couple of blocks from Adrienne and Bill's house, is a must for me on any trip to New Orleans — we dined royally there, as always.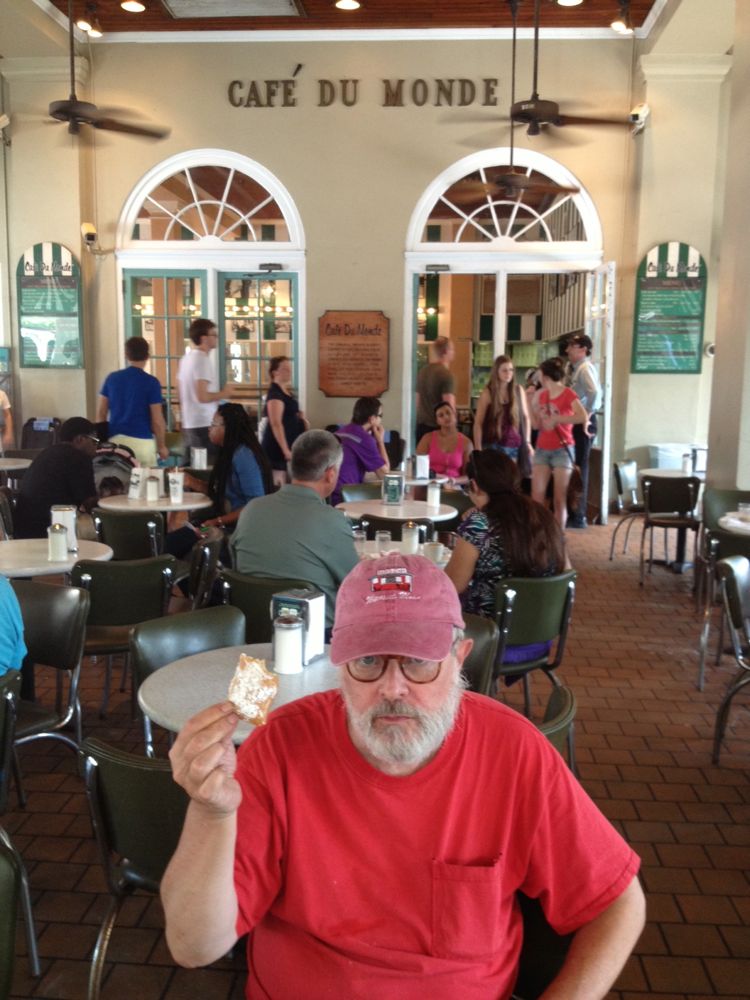 I also sneaked in a lunch at Fiorella's in the Quarter, which serves fried chicken almost as good as my mother makes, and a trip to Café du Monde, for coffee and beignets.
One afternoon as my two sisters and I wandered around the Quarter, we started looking for a place to grab a quick bite for lunch. By chance we stumbled upon Hermes, the bar attached to Antoine's, the legendary New Orleans eatery, founded in 1840 and the oldest continuously operating restaurant in America.
There, Anna was able to try for the first time one of Antoine's original signature dishes, Oysters Rockefeller, which amazed her.  The staff also gave her and Libba a tour of the whole restaurant, just closed down after the lunch hours, including the small private dining rooms where much clandestine romantic intrigue has undoubtedly played out in years past.  The tour was just the sort of beau geste you come to expect from people in New Orleans.
Libba, not fully recovered from her exertions for the wedding, decided she needed to fly home from New Orleans, so my sister Anna and I pushed on by ourselves.
We took with us two muffuletta sandwiches from the Central Grocery. These are enormous, complex Italian sandwiches, peculiar to New Orleans.  They can be found all over the city, but the Central Grocery makes the best ones.  They served for lunches and late-night snacks on the road, until Anna got tired of them.  I was still eating mine and part of hers back in Las Vegas.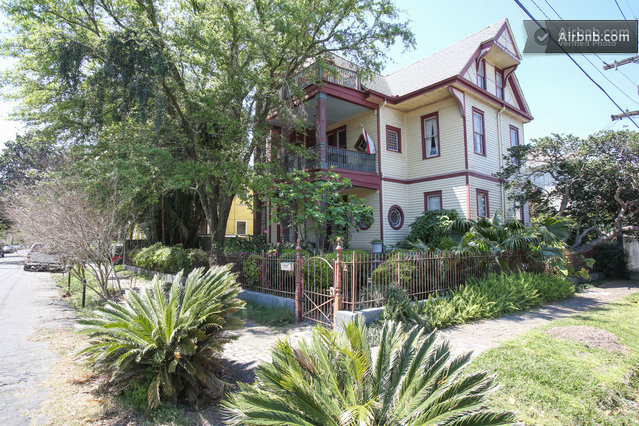 You can stay at the Parks-Bowman Mansion yourself, because Adrienne and Bill now offer four of its rooms on airbnb.  The rates are a bargain for central New Orleans, in a magnificent home filled with wondrous folk art, hosted by people who embody the creative and fun spirit of New Orleans.  Check it out — The Red Room.
Click on the images to enlarge.