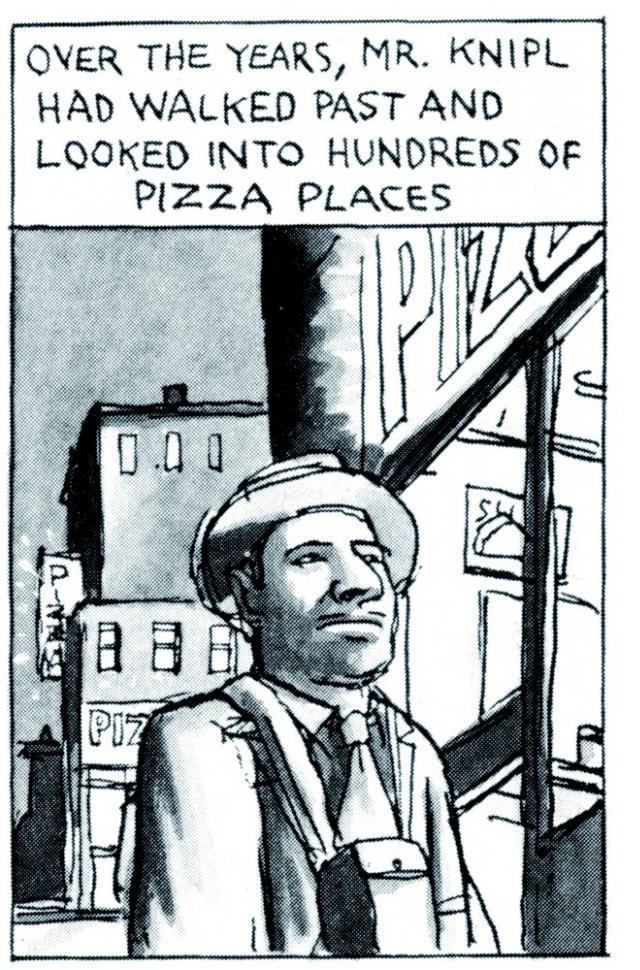 Ben Katchor is one of the truly great modern comic strip artists.  He has a quirky drawing style, influenced a bit by the work of Ben Shahn, and quirky obsessions.  Julius Knipl, Real Estate Photographer is a Katchor strip that appears in The Forward and other publications.  Some of the strips are collected in The Beauty Supply District, a book I'm reading now.
They're set in an imaginary New York that resembles sections of the real New York as it once was, vestiges of which remain — clusters of small-time manufacturers, retailers and wholesalers of modest industrial products and novelties.
When I first moved to New York in the 1970s I lived on a street in Chelsea which housed many such establishments — a maker of flags, a maker of coat-hangers, a maker of trophies.  They're all gone from my old neighborhood now, but they live on in Katchor's strips, along with the eccentric salesmen who used to hawk such goods, the local cafes and delis that served the owners and employees of such firms.
They become in Katchor's strips a kind of self-enclosed universe of desperate hustle and  baffled ambition and weary resignation.  It's a universe that seems to know it's doomed but carries on regardless.  Today's New Yorkers are dining in upscale restaurants that once housed cheap novelty display rooms, living in wildly expensive lofts where flags were once sewn.  Katchor's world is populated by the characters whose ghosts must still haunt such places.