Click on the image to enlarge.
This is one the best of the soap opera comic strips — aimed primarily at women, they generally offered romantic or domestic melodramas with female protagonists.  Their visual style tended to be realistic, with superb draftsmanship and dynamic angles within the panels punching up the drama of the narratives.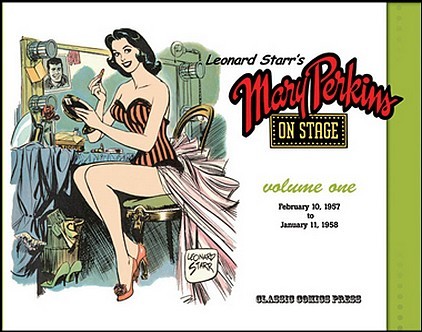 Leonard Starr was a master of the form.  His Mary Perkins On Stage follows the life and loves of a young woman who arrives in New York hoping for a career in the theater.  Her professional struggles and romantic entanglements hurtle along at a dizzying pace, with spectacular emotional tensions and climaxes in almost every strip.
The melodramatic twists and turns may be conventional, but Starr's skills as an artist and visual storyteller keep them entertaining and addictive.