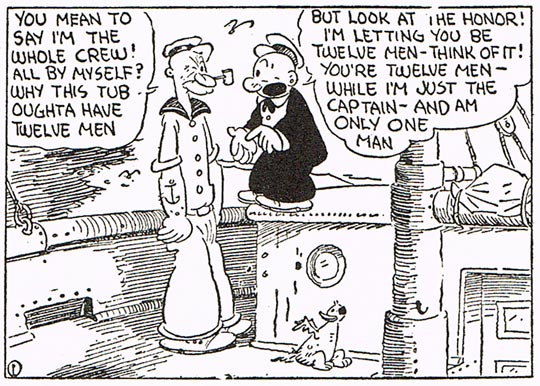 Popeye the sailor man first appeared as a secondary character ten years into the run of E. C. Segar's comic strip Thimble Theatre, which offered up parodies of dumb Hollywood movies.  Almost instantly, however, he took over the strip.  Violent, indestructible and bound by his own code of rough honor, he was irascible but dependable — the perfect protagonist for the wacky adventure strip Thimble Theatre turned into.
The strip featured surreal and whimsical fantasy elements and regular episodes of wild anarchic action, with Popeye inevitably having to beat the bejesus out of some villain or other.
The whole thing is eccentric, sui generis — and one of the most inventive and entertaining of all comic strips.  Popeye got toned down as a character in the animated cartoons he eventually starred in, and in the incarnations of the comic strip after Segar's untimely death at the age of 43.  The character created by Segar remains a true American original, though — a brawling pigheaded palooka with a heart of gold.