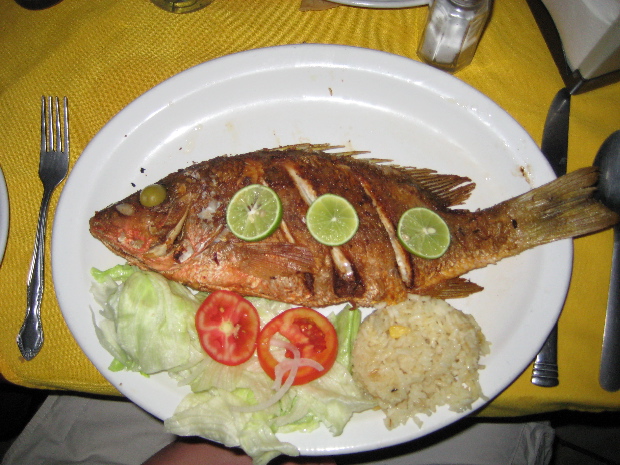 It's
hard to have a bad meal in La Paz, especially if you stick to
seafood. In fact, if you stick to seafood (and avoid the Burger
King and Applebee's) it's hard not to stumble upon some of the best
meals of your life, just about anywhere.
The fanciest place we ate at in La Paz was the Bermejo, the restaurant
at Los Arcos, our hotel, but we didn't pay fancy prices there because
we dined on fish we'd caught ourselves (an experience I'll write about
in a later post.) The hotel, which caters to fishermen, is happy
to prepare fish you supply yourself, and to freeze any of it you want
to carry home with you.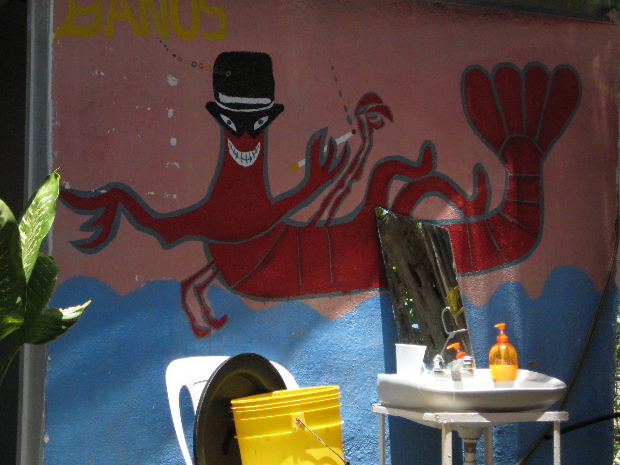 The simplest place we ate at was the Super Tacos de Baja California
Hermanos Gonzáles, an outdoor stand with a big terrace that's an
outgrowth of a sidewalk stand that got so popular it had to
expand. My sister Lee had some stupendous fish ceviche there,
Harry and I shared some equally stupendous octopus and clam
tacos. (Nora isn't a seafood fanatic and often had quesadillas of
one sort or another.) We never ate better or cheaper food
anywhere in Baja
California. One wall of the place had cool murals (above.)
One evening we took a lengthy walk along the marinas to the south of the malecón
to a medium-priced restaurant called the La Costa, palapa-roofed, right
next to the water. We had super-fresh seafood there and Harry
felt moved to record the crab dinner he ate. "A lot of work," he
said, "but worth it."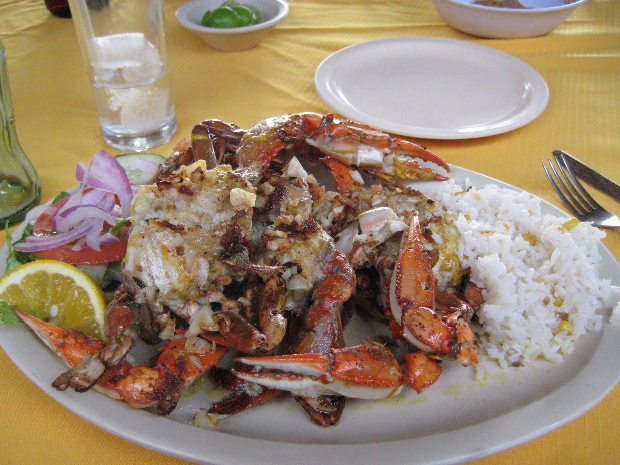 The Bismark is a rarity — an indoor seafood restaurant back several blocks from the malecón.
The seafood was terrific and the decor was even better:
Harry and
I had dinner one evening at the Bismark II, which the clerk at our
hotel recommended. It's right across the street from the malecón,
with seating on a terrace or back under a high palapa roof. A
charming place with the same great seafood as its parent establishment.
The only bad experience we had dining out in La Paz was at a place right on the malecón, the Kiwi. Lee and I had fine smoked marlin tacos and Harry had a wonderful pescado entero
— a whole fish fried quickly in super-hot oil and then served whole
(but with olives replacing the fried eyes), which Harry also felt moved to
record (see the images at the beginning and end of this post.) But Nora ordered fish and chips and the fish had gone bad
— very bad. There's just no excuse for this in a restaurant
within spitting distance of the ocean, in a town where fresh seafood is
so ubiquitous and so cheap. Foisting a small bit of bad fish on a
child might have saved the restaurant as much as fifty cents, I
suspect, but it lost our goodwill forever.
La Paz is a seafood lover's paradise, not just because there's so much
and such a great variety of it, and not just because it's so fresh, but because of the simple, perfect
ways it's cooked and served. You feel you're eating the same food
the chef would make for himself or herself, or for their families,
prepared with the same unpretentious care and respect.

For previous Baja California trip reports, go here.





[Photos © 2007 Harry Rossi]