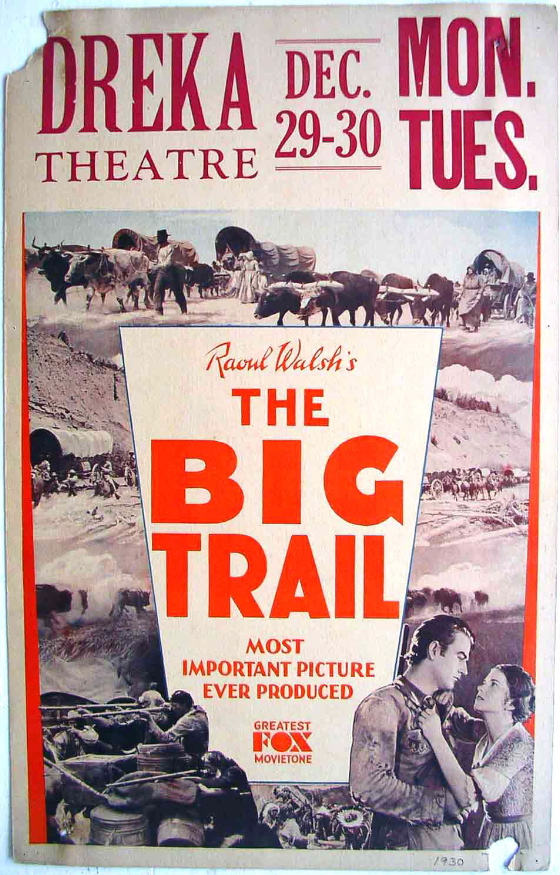 In the whole history of cinema there is no greater feast for the eye than Raoul Walsh's The Big Trail, from 1930. It cost something approaching $100 million in today's dollars — though in truth it probably couldn't be made today, without CGI, for less than $300 million — and Walsh put all of the budget on screen, creating an epic vision of a wagon train's journey from the banks of the Mississippi to the Pacific coast. It was shot in a standard 35mm format and in a 65mm wide-screen version, which has recently become available on DVD for the first time.
Because so few theaters were willing or able to refit to show the 65mm version, and because the film was not a hit, Hollywood abandoned the wide-screen format until the 1950s, when it was taken up again in response to the threat from television. So The Big Trail remained a costly experiment gone awry — but it hardly plays as an experimental work today. Walsh's composition for the wide screen is as elegant and accomplished as any in the later history of the format — it bears favorable comparison with the best wide-screen work of John Ford or David Lean.
As a film shot almost entirely on location, it also bears comparison with Greed and Ford's The Iron Horse for its pictorial realism, which is downright breathtaking.
That's the good news. The bad news is that the script for this early talkie is marred by stilted dialogue delivered in a stilted style by almost all the actors, including John Wayne in his first starring role. The location sound is extremely impressive for a film from 1930, but not impressive enough to hold its own with the stunning visuals.
I can say without hesitation, however, that if The Big Trail had been a silent film, it would today be ranked among the greatest movies ever made. If you can look past its limitations as a talkie, you can see the masterpiece it might have been — the masterpiece that on one level it certainly is.
Ford, who discovered Wayne, is said to have held a grudge against him for making his starring debut in another director's film. I suspect, however, that this was in part displaced resentment against Walsh for creating such magnificent images of the American West, which rivaled and sometimes surpassed those Ford had created in his own silent Westerns. It is perhaps no accident that Ford abandoned Westerns entirely during most of the 1930s, returning to the form only in 1939, with Stagecoach . . . and I'm tempted to suggest that Ford spent the rest of his career as a maker of Westerns trying (successfully) to live up to the visual poetry of Walsh's The Big Trail.