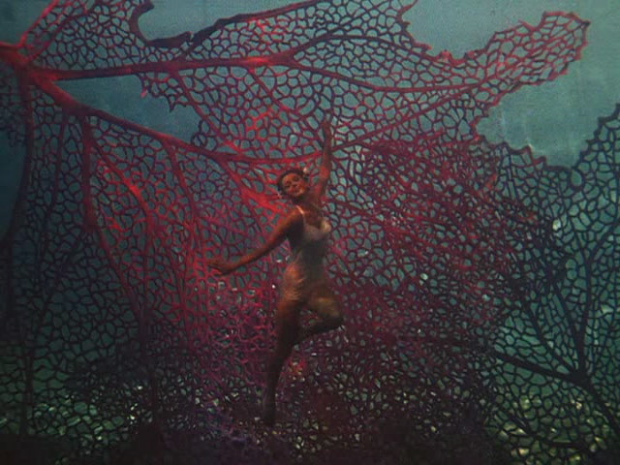 Charles Walters was a dancer and choreographer at MGM until he got a shot at directing, courtesy of Arthur Freed, who also promoted the directing careers of Gene Kelly and Stanley Donen by more or less the same route. Walters directed a lot of very good musicals and one great one, Easter Parade. He wasn't a great visual stylist but most of his musicals have wonderful visual passages connected with the song and dance numbers — long takes with elegant camera moves or tracking shots that lend a special sort of excitement and beauty to the scenes.
Texas Canival, from 1951, is one of his lesser efforts. It was produced by Jack Cummings, who had a knack for deploying the first-rate talent at MGM for second-rate efforts. Texas Carnival has a lame script by Dorothy Kingsley and a program of pleasant but less-than-memorable songs with lyrics by Dorothy Fields and music by Harry Warren. Hermes Pan did the choreography, featuring some crackerjack dancing by Ann Miller. Esther Williams, Red Skelton and Howard Keel, the rest of the principal cast, are genial but bland. None of the above artists is at his or her best here.

But there's one sequence in the film that makes it worth watching — a kind of dream fantasy in which Keel sees Williams floating around his hotel room one night, after he's fallen in love with her. It's done with impeccable superimpositions of Williams filmed swimming underwater and the effect is magical.
Williams, as everyone including Louis B. Mayer liked to say, was a star wet but not a star dry. Wet, however, she was really something — an expert dancer in a very unusual medium, H²O. (She's pictured above in a scene from Ziegfeld Follies, directed by Vincente Minnelli.) Her balletic moves worked best when they were simple and languorous, emphasizing the slow-motion effect naturally imparted by movement underwater. Like over-cranking in the camera, underwater dancing allows one extra time to savor the grace of a dancer's body in movement.
When used for a lyrical, erotic mood, as Walters uses it in the hotel-room scene, it can be haunting, uncanny, sublime. The scene points up one of the virtues of the second-rate MGM musicals — they often deliver moments and images as memorable as the best ones in the first-rate musicals . . . just enough magic to signal that MGM really was a dream factory like no other.