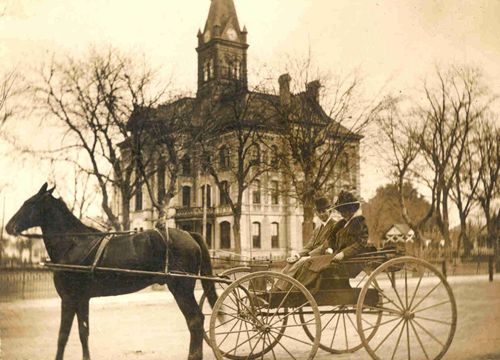 Arthur Pendennis was the protagonist of William Makepeace Thackeray's novel The History Of Pendennis, which appeared in serial parts between 1848 and 1850. Arthur was a young man of privilege spoiled by an adoring mother who had to learn to make his way in the wider world. Booth Tarkington gave his name to the Ambersons's carriage horse in his novel The Magnificent Ambersons, and the horse is both shown and mentioned several times in Orson Welles's film of the novel.
Thackeray's Pendennis is obviously related, in terms of character, to Tarkington's George Amberson Minafer, and the horse who bears his name is closely associated with George in several scenes from the novel and the film. Pendennis is pulling the sleigh carrying George and Lucy Morgan when they pass her father's automobile, stranded on the snowy lane. "Get a horse!" George shouts just before taking a corner too fast and overturning the sleigh — at which point Pendennis runs off home by himself.
George has already been associated in the film, as a child and young man, with reckless buggy driving, and will become increasingly associated with scorn for the automobile. The world of the horse and buggy is the world that coddled him and that he doesn't want to end. He and Pendennis will both be made obsolete by the world the automobile is ushering in.
Pendennis is also featured in the most beautiful shot in Welles's film of The Magnificent Ambersons, one of the most beautiful in the history of movies — the long tracking shot pacing the buggy down the main street of town while its passengers George and Lucy discuss their future, a scene taken from the book. In both book and film the conversation is one Lucy doesn't want to have, because she can't see a happy outcome to it, and she urges Pendennis to move faster to cut the talk short . . . but Pendennis obeys only George.
Welles moves his camera at Pendennis's speed, for a very long time, drawing us deeper and deeper into the space of the image — into George's world . . . a world that we, like Lucy, already know is doomed. It's often said that George in Welles's film is too unsympathetic, but the buggy ride that he and Pendennis take Lucy and us on is magical . . . a visceral evocation of a slower and more gracious time. It's the one scene in the film that I find myself wanting to return to again and again — its beauty is inexhaustible. While you're on that ride it's impossible not to see things from George's point of view, Pendennis's point of view, to grieve over what's about to be lost, and perhaps even to agree with George that "the automobile had no business to be invented".
By the same token, when Lucy says, "Get up, Pendennis!" she's talking to George, begging him to get with it, to move with the times — but a horse and buggy, like George, can only move so fast.
[The image at the head of this post is not from The Magnificent Ambersons, but it might well have been — a measure of how effectively the film evoked the world at the turn of the last century.]