I'm a child of rock and roll. The first song I remember hearing on the radio, when I was seven years-old, was Elvis Presley's "All Shook Up". I don't have a distinct memory of hearing "Hound Dog", which came out a year earlier, on the radio but I remember some of the cultural fall-out it caused. I lived in a tiny town in rural North Carolina at the time, and a kid in my first-grade class who lived on a nearby farm brought his guitar to school one day and played the song for us. I guess it was the first time it dawned on him that knowing how to play the guitar might be seen as a cool thing by his peers.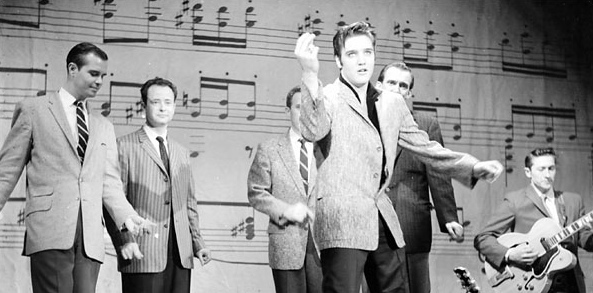 I remember seeing Elvis perform the song on the Ed Sullivan show, later that year. A year after that, Jailhouse Rock was the first movie I was ever allowed to go see at night.
I can't say, though, that any of Elvis's songs got to me at that age. They were just part of the landscape — part of the soundtrack of everyday life. I didn't really start to appreciate Elvis until I was in my twenties, and didn't own recordings of any of those early hits until then.
The first popular music that got to me came on an LP record. It was the first LP record my family ever owned, bought to play on our first record player, which my dad brought home as a surprise one day in 1956 and which looked something like this: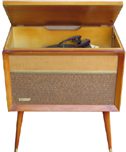 It's possible that the LP came with the set, but more likely that my dad bought the player so he could listen to the LP. It was the Broadway cast recording of My Fair Lady.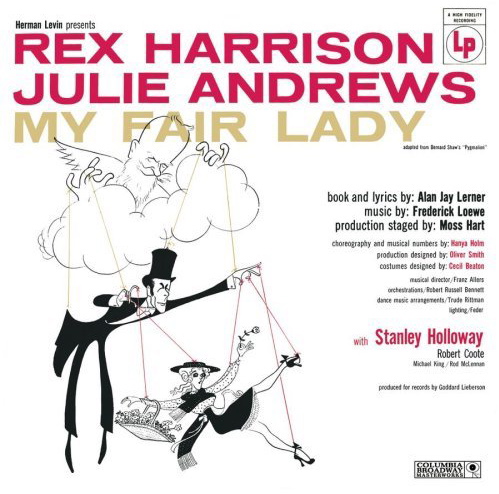 This LP was even more popular than Elvis's LPs back then — the My Fair Lady cast recording still holds the record for the most weeks on Billboard's top forty charts. If my dad bought our first record player just so he could hear it, I'm sure he was doing what tens of thousands of other Americans were doing at the same time.
The extended-play LP — which could fit 26 minutes of music on a side — was only four years old in 1956. It was developed primarily to fit all the songs from a typical musical on one record, and it was the cast recordings of popular musicals like Kiss Me Kate and My Fair Lady that really established the format.
My dad loved the recording of My Fair Lady and played it over and over. The song I remember him liking the most was "A Hymn To Him", with the refrain "Why can't a woman be more like a man?" The song that got to me was "Wouldn't It Be Loverly?" with its sweet melody and its air of longing:

All I want is a room somewhere,
Far away from the cold night air,
With one enormous chair —
Oh, wouldn't it be loverly?
I'm not sure what I might have been longing for back in those happy times, but the feeling of it struck a chord.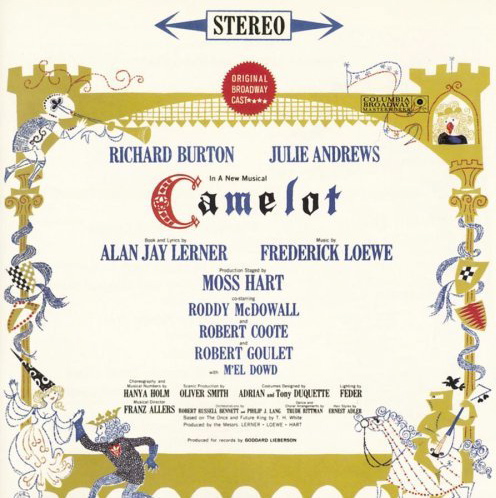 My family always bought the recordings of the big hit Broadway shows — The King and I, Flower Drum Song, Camelot, The Sound Of Music, Funny Girl. I always loved them, played them over and over, found myself touched by the ballads in particular. For all that, I never thought of Broadway show tunes as "my music" — when I got to the age when I could choose my own records to buy, they were records of folk and then rock music. The show tunes were just hidden away somewhere in my heart . . .
. . . until one day, very late in life, I realized what they'd meant to me, what good companions they'd been, what good companions they are and always will be.
"Wouldn't It Be Loverly?" from that 1956 LP still takes me back with uncanny efficiency to the den in my family's house in Belhaven, North Carolina where I first heard it at the age of six. No other version of the song does this.
Julie Andrews, by the way, was only twenty years-old when she recorded it: