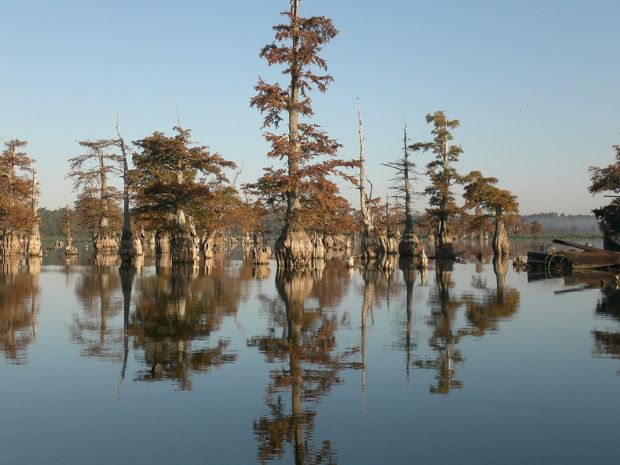 Indefatigable pilgrim Paul Zahl recently traveled to the area around Paducah, Kentucky to visit a few places enchanted in his imagination. Reelfoot Lake has associations with Irvin S. Cobb, a once celebrated American author on whose stories John Ford based two films. Paul writes of the picture above:

I took this in the early morning — Bald Cypresses standing out
of Reelfoot Lake in western Tennessee near the Kentucky border. The "umbrella" root-balls are growing on top of the thousands of original
cypresses that were submerged in a single night during one of the "New Madrid" earthquakes of 1811 and 1812 — a series of three massive temblors that probably exceeded 7 points on the Richter Scale. John James Audubon witnessed one of the quakes, during
which he said the earth "rolled" in waves.

Irvin S. Cobb set his famous horror story
"Fishhead", which is believed to have influenced H. P. Lovecraft
directly, on Reelfoot Lake, conjecturing a school of human-sized
catfish that drag the two villains to their deaths at the end of the
story.

For more on Irvin S. Cobb, check out Paul's podcast on the writer here.