There
was a great middleweight fight in Atlantic City last night between the
champion Jermain "Bad Intentions" Taylor from Little Rock, Arkansas, and challenger Kelly "The Ghost" Pavlik (above) from
Youngstown, Ohio. It was great because it had a three-act
narrative structure with bold contrasts and startling turn-arounds, and complicated emotional themes.
Taylor gained the championship and kept it for a while with workmanlike
victories that never seemed to challenge him in any profound way — to
test his character. People started to think he was a champion
merely faux de mieux.
Pavlik was a relatively inexperienced fighter with an unbeaten record
and a powerful punch. The punch made it a fight fans might get a
bit excited about — the inexperience made it a fight that Taylor's
handlers weren't afraid to make.
In the first act of the drama, Taylor's handlers looked wise.
Pavlik was aggressive coming out, using his jab well, but sloppy on
defense. In the second round he paid for his sloppiness when
Taylor put him to the canvas with a flurry of hard, flush
punches. Even when he managed to get up again, Pavlik looked like
he was out on his feet. But he dodged and clinched, weathered a
few more terrifying blows and managed to survive the round.
But he actually did much more than survive. When HBO commentator
Larry Merchant asked him after the fight how he felt down there on the
canvas, Pavlik replied, "You want to know the truth? I thought,
'Shit, this is going to be a long night.'" He was already gearing
up for what he had to do to stay in the contest.
What he did was recover quickly in the next round, worrying Taylor
constantly with a hard, accurate jab. The worry was just enough to
keep Taylor from using his faster hands and superior boxing skills to
wear Pavlik down or catch him again with a terminal combination.
Pavlik grew stronger round by round — Taylor didn't fade exactly, he
just never found a way to step things up from his end.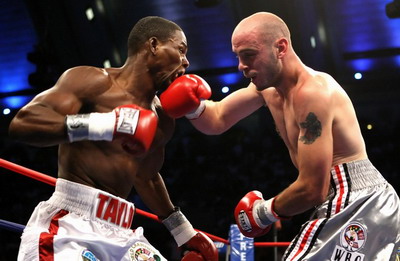 Finally in the 7th Pavlik hit Taylor with a right that stunned
him. Pavlik didn't hesitate — he closed in and beat Taylor
nearly senseless. Pavlik didn't lose his head at that point,
either. He paused, thought about it for a moment and delivered a
clincher — an upper-cut that sent Taylor to the canvas, defenseless,
at which point referee Steve Smoger stepped in and called an end to
things, not a moment too soon.
Ironies abounded. Taylor had fought one of his best fights ever,
delivering the kind of excitement that fans found lacking in his
earlier victories. But when he had Pavlik hurt in the second he
lost his focus, couldn't summon the composure to put him away, as
Pavlik did in the seventh. The less experienced fighter showed
more ring savvy than the veteran.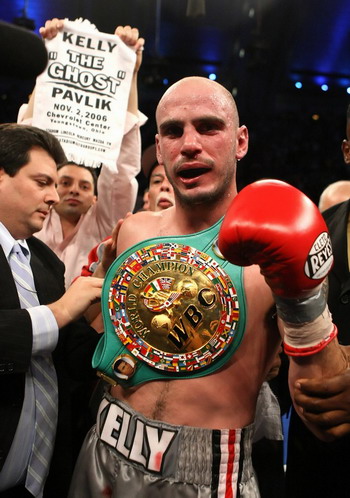 Youngstown was a steel manufacturing city, once upon a time, but all
that is in the past. Now it's rusting and suffering. It has
produced more than its share of boxing champions, including the
incendiary Ray "Boom Boom" Mancini, and now it has new champion in
Pavlik. It must seem like a miracle — like a ghost rising from
the rust.
What a story — what a fight.