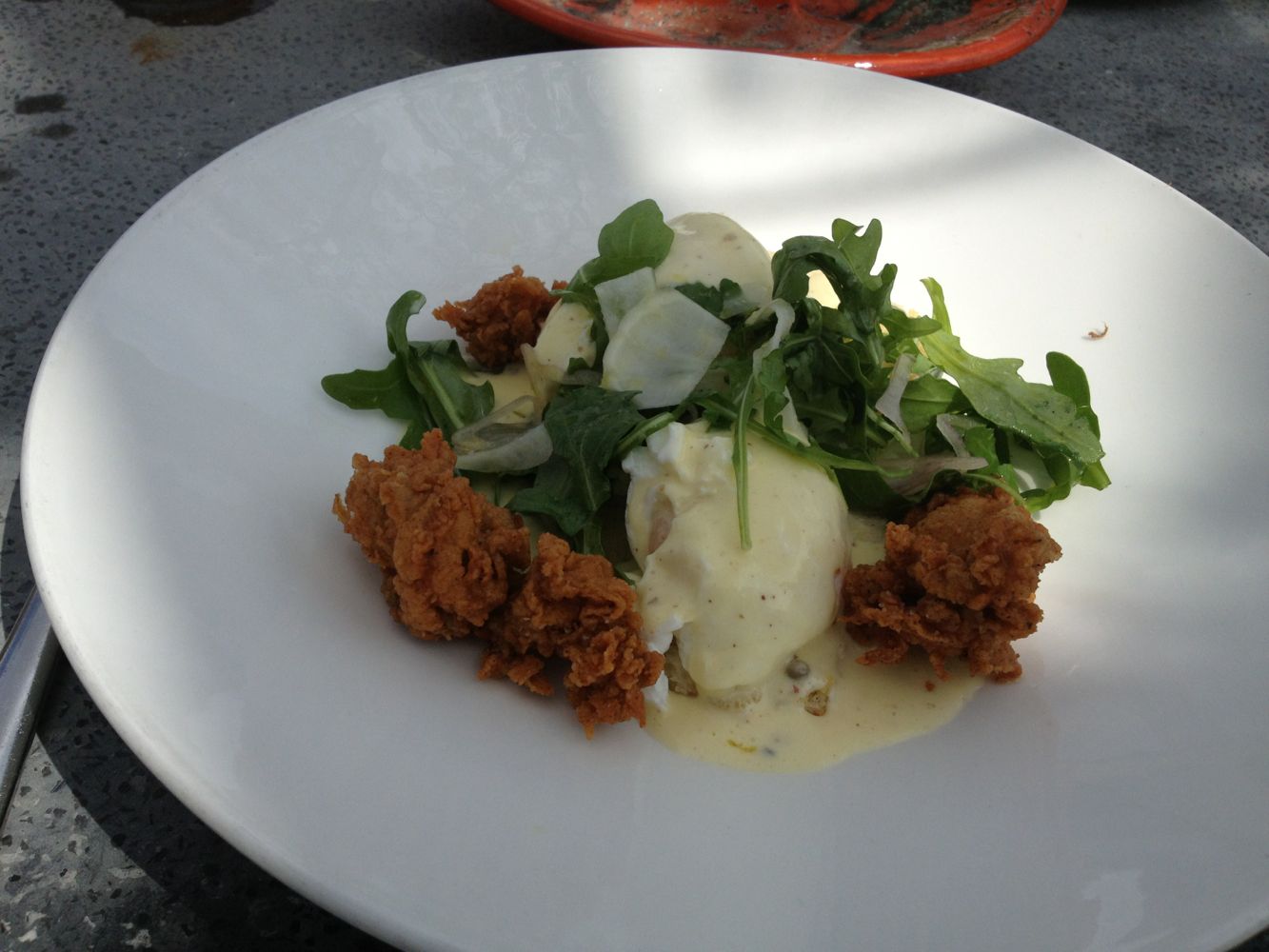 On my last day in Austin, Hilmar took me to Olivia's for brunch. There I had the dish above — Oysters Benedict, Eggs Benedict on homemade bread with fried oysters. Why have I never seen this dish on any other menu before? It is the apotheosis of brunch fare.
We drove back to Seguin that afternoon and that evening went to nearby Gruene, Texas — a town that had died but been revived as a tourist destination. At its heart was Gruene Hall, built in 1878, the oldest continuously operating dance hall in The Lone Star State. It was deep Texas:
Hilmar's family is of German descent, as are many families in the areas around Austin and San Antonio and points south. They immigrated for the most part in the middle of the 19th Century, bringing with them their music, the polka specifically.  It mixed with the Mexican music of the Latino population in the region to create what we now know as Tex-Mex music, which migrated in turn to Louisiana to become part of the basis of Cajun music.
A Texas dance hall is very similar to a classic German beer garden — because of the beer, of course, which flows in abundance, but also because of the long communal tables where people, including many whole families, sit enjoying the music, and the dance floor, where people of all ages two-step around.
I wore a cowboy hat my whole time in Texas.  I didn't see many other people wearing them in Austin or San Antonio — I got plenty of compliments on mine, as though the headgear was both exotic and reassuring — but there were lots of cowboy hats at Gruene Hall.
After a few beers at the Hall, we went and had dinner at The Grist Mill, an old mill overlooking the Guadalupe River which had been converted into a fancy restaurant.
The view of the river far below us was mesmerizing:
The next day I headed off west, driving home.